Earlier this week, passengers on two major airlines were forced to cancel hundreds of flights due to disruptions caused by severe thunderstorms and staffing constraints.
More than 370 flights for one airline alone — or 12% mainline schedule — had to be canceled.
More than 120 of those cancellations were due to a lack of crews, while 40 were triggered by bad weather, according to CNBC. Another airline had to cancel more than 60% of its schedule, totaling 429 flights.
Between Sunday to Monday at Dallas/Fort Worth International Hub, approximately 3,000 flights were canceled or delayed for one airline.
The costs of these delays and cancellations are well into the millions of dollars, and resulted in a terrible passenger experience. Now that we look back on the storm and the impact, it is a prime example of the need for weather intelligence as the standard within the aviation industry.
Reasons for Delays and Cancellations 
While weather was the primary reason for the delays and cancellations, the underlying issue is more important. Airlines need to be able to plan ahead operationally vs. being reactive to an unexpected storm. A spokeswoman for American Airlines highlighted that delays and cancellations were made worse due to lack of crew, which makes sense as an issue caused during a storm. The solution is for an operations teams to take action before it's too late, and three examples of what that looks like in advance of a storm include:
1. Passenger communication: Send push notifications recommending passengers take an earlier departure, or arrive earlier at the airport to improve the passenger experience and avoid long lines and traffic getting to the airport. This helps flights to depart on time, instead of compounding delays further.
2. Crew members: Incentivize pilots and flight attendants to arrive at the airport early, and avoid road closures or heavy traffic.
3. Vendor communication: Provide a heads up to all third-party vendors to not only arrive on time, but to prepare staffing for overtime, as delays are expected. See below for an example showing a predictive impact (using our intelligence platform) to the main highway leading to the airport.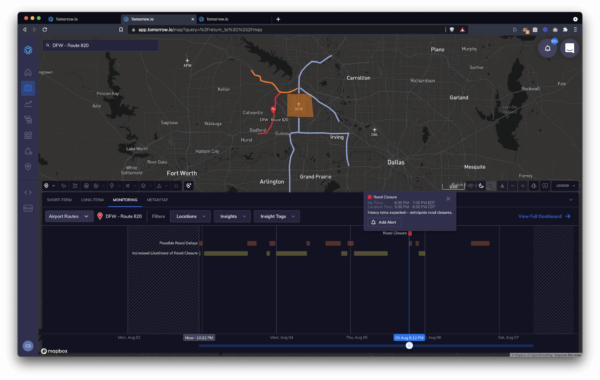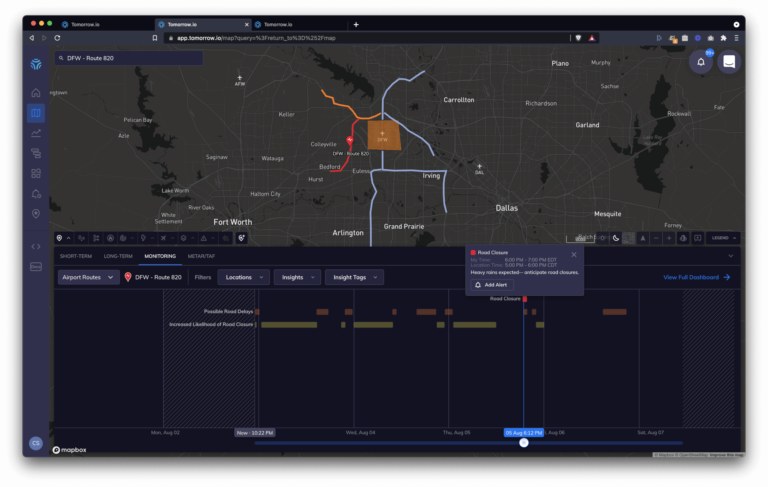 These are just 3 examples (all of which can be done using Tomorrow.io) of actions that can be taken using a weather intelligence platform to mitigate business risk against the weather, and it's becoming critical with more frequent and volatile weather events amidst an ever-changing climate.
CEO of United Airlines, Scott Kirby recently commented on a renewed focus on the customer experience, saying: "Many of us in aviation have a new focus and commitment to change the customer experience, and to use what we went through – the worst crisis in history – as a transformative moment to really make it better for customers." A trusted partner of Tomorrow.io, United Airlines is using weather intelligence to manage operations.
A Better Passenger Experience
The storm that hit the Dallas/Fort-Worth area storm was a significant weather event with thunderstorms produced wind gusts up to 47 kts. However, it was also one that's fairly common in this part of the world during this time of the year. In fact, Tomorrow.io's proprietary "1-Forecast" models that are specifically tuned to capture convection (thunderstorms) showed the predictive thunderstorm activity in the vicinity of 24-48 hours ahead, meaning thunderstorms certainly should have been in the forecast with expected impact for all airlines.
GM of Station Operations at JetBlue, Daniel Blake spoke earlier this year at Tomorrow.io's Weather Intelligence Conference, ClimaCon to discuss how JetBlue uses Weather Intelligence to manage operations and the importance of being ahead of the weather operationally.
These types of weather events don't need to surprise airlines and airports anymore, nor do they need to unexpectedly disrupt travelers. That said, these types of events absolutely demonstrate the need for a weather intelligence platform to help predict and stay on top of operational changes needed ahead of weather impact. With weather intelligence, aviation operators can be equipped to manage weather security and climate risk impact in advance, and can also ensure a more efficient and safe experience for crews and customers.