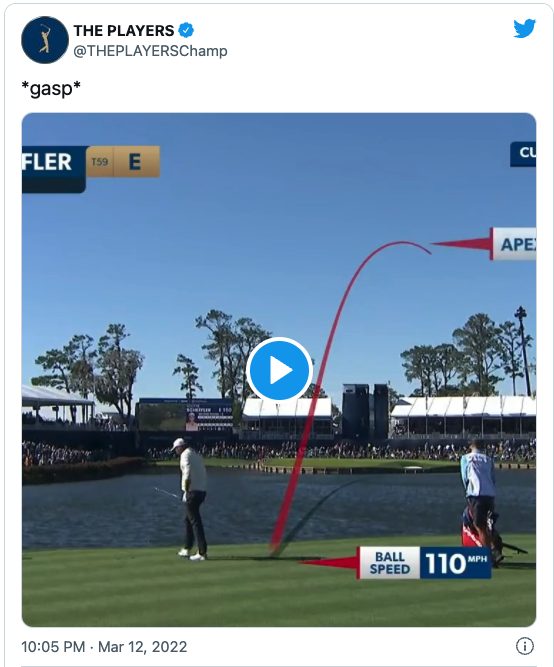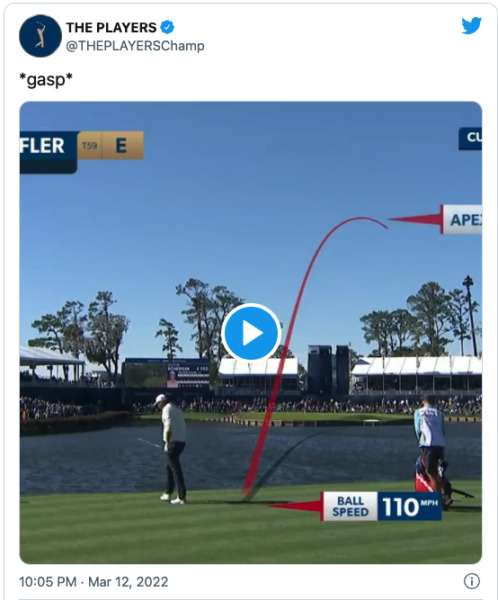 On Monday evening, 24 hours later and 9 holes fewer than expected, Australian Cameron Smith was finally declared the winner of the 2022 THE PLAYERS Championship – , one of the flagship tournaments on the PGA Tour – played at the TPC Sawgrass in Ponte Vedra Beach, Florida. Unfortunately for all parties involved – players, fans, and definitely the stressed out organizers – wicked weather wreaked havoc on the tournament all weekend, leading to the 8th Monday finish in its 48-year history. 
 The wild weather started early, with heavy rain and lightning causing the first weather delay on Thursday morning at 11:15 am. Only about a third of the playing field, those fortunate enough to have an early tee time, had completed their opening rounds. After a rain delay, a restart, another delay, and then suspension due to darkness, only about half the field had finished their first 18, and organizers and players readied themselves to push everything back. 
Only, they weren't prepared for what Mother Nature had in store for them on Friday and beyond. 
Friday morning provided a time window of about 4 hours for golfers to play, before heavy rains rendered conditions totally unplayable. After delays leading to starts and stops, play was finally called for the day on Friday at 3 pm, with no plans to resume until Saturday 11 am at the earliest. 
"The golf course has just reached a point of saturation, and unfortunately the weather conditions are not providing us any relief," said Chief Referee Gary Young. 
When Saturday rolled around the rain finally stopped, players had to deal with a new element: violently strong gusts of wind. And those swirling conditions led to the best players in the world looking like your regular casual weekend golfer, spraying balls all around the course and into the water:
The players generally understood that this was a huge anomaly; using Tomorrow.io's historical weather API, we tracked the highest wind gusts at TPC Sawgrass over the past 5 years to be just 17 mph. This past weekend, gusts more than doubled, consistently swirling 35-40 mph throughout the course, leading the best irons players in the world to fight ultimately losing battles to keep their balls out of the water hazards. 
The delays throughout the weekend also led to some unfair scenarios that put certain players in tough situations and others in better ones. As Byeong Hun An tweeted, certain waves of players – those with early-late tee times – were able to avoid the fits of the start-stop delays and ultimately play to their advantage.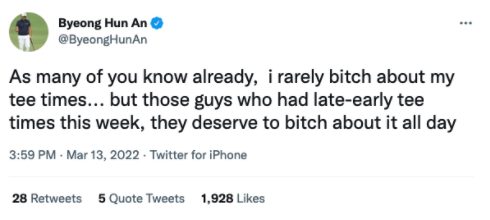 Knowing the weather to come – and which pockets of time would be available for which tee time waves, and how bad the winds were going to get – also provided angles for betting advantages. Tommy Fleetwood and Tom Hoge were the clubhouse First Round Leaders after their early rounds on Thursday. Enterprising bettors, knowing how messy things were about to get on Friday and Saturday before the completion of Round 1, could comfortably place bets on either Fleetwood or Hoge to hold on to their first round leads. The Las Vegas odds didn't change to account for this either.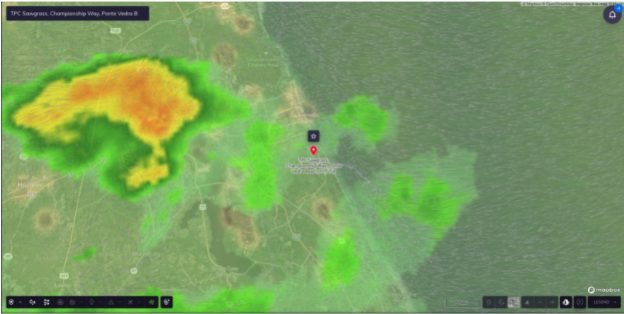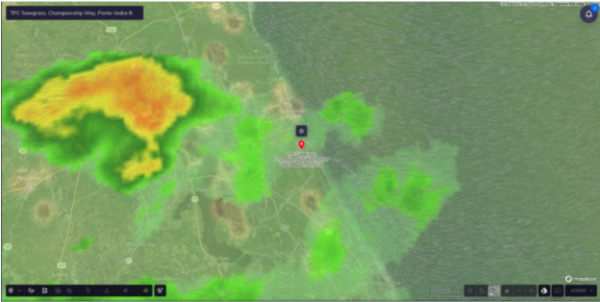 Ultimately, for the TOUR and tournament organizers, weather is the biggest headache. Not only do they have to worry about keeping players happy and providing as equal a playing field as possible, while ensuring that fans are safe, but they have to deal with media and broadcast partners as well. There's only so much leeway for them to delay the tournament – a Tuesday finish or later would've been nightmarish, with dozens of knock-on downstream effects.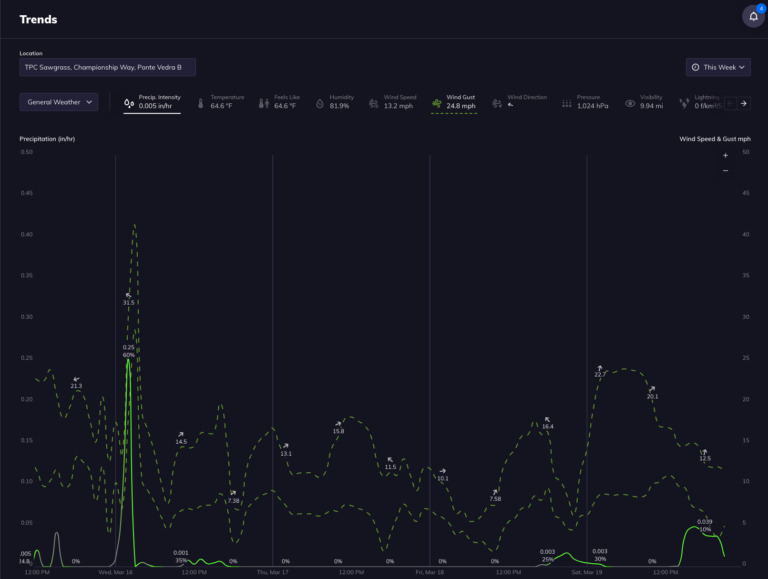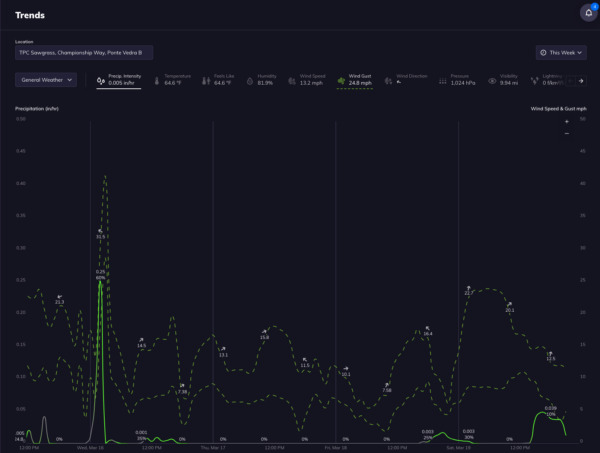 That's why it's imperative for the PGA Tour – or any sports and events company, to have full visibility into weather insights, intelligence and forecasts for their events. They need not just the daily forecast, but hour-by-hour and even minute-by-minute hyperlocal breakdowns of not only what the weather will be like but what the impact on every aspect of operations will be. From heavy rains rendering the course unplayable to strong winds leading to many bogeys or worse, organizers and players alike need to know what's coming. 
For Cam Smith, battling through the elements led to one of the biggest and most satisfying wins of his PGA career.
See How Tomorrow.io Can Help