As late spring heads into early summer, we reach peak severe weather season in huge swathes of the Southeastern United States with heavy destructive storms and other inclement—sometimes freakishly rare—weather happening frequently throughout Alabama, Mississippi, Louisiana, Georgia, and Florida. According to NOAA, two of the three highest total costs by state from severe weather disaster events in 2021 were in Florida and Louisiana. And breaking it down by type and month, we see that severe storms make up the bulk of disaster events in these months: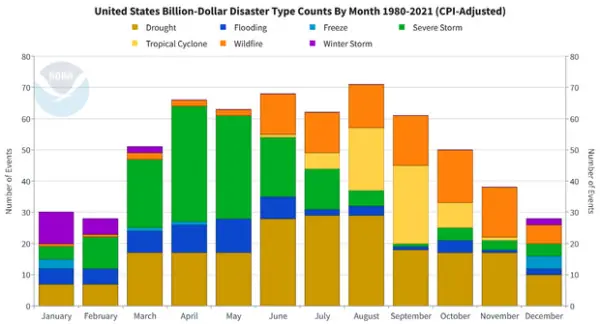 For sports and entertainment venues, anticipating and dealing with severe storms is not just a major challenge but potentially destructive and catastrophic. Everyone remembers Hurricane Katrina, the 2005 Category 5 Atlantic hurricane that caused over 1,800 fatalities and $125 billion in damage in New Orleans and the surrounding areas. Extensive damage was done to the Louisiana Superdome, home of the New Orleans Saints NFL team, forcing them to play their home games elsewhere for the remainder of the season.
Historic Disruptions from Severe Southeastern Weather
While being the most infamous, Katrina isn't the only example of severe weather disrupting sports and entertainment venues in the southeast, with numerous incidents ranging in severity in the past two decades:
2008 tornado outbreak: In 2008, 45 tornadoes hit the southeastern US in the

2008 Atlanta tornado outbreak

, damaging major landmarks in Atlanta like the CNN Center and the Jimmy Carter Presidential Library. Across from the CNN Center was the Georgia Dome, which was hosting a Southeastern Conference tournament basketball game at the time. In fact, because the game went into overtime, thousands of fans who would otherwise have been making their way home right in the path of the tornado luckily avoided it.

2009 Six Flags flooding: Severe floods hit the Atlanta area in late summer 2009, leading to this stark image of a major rollercoaster at Six Flags of Georgia Amusement Park being submerged by the fast-rising flood waters.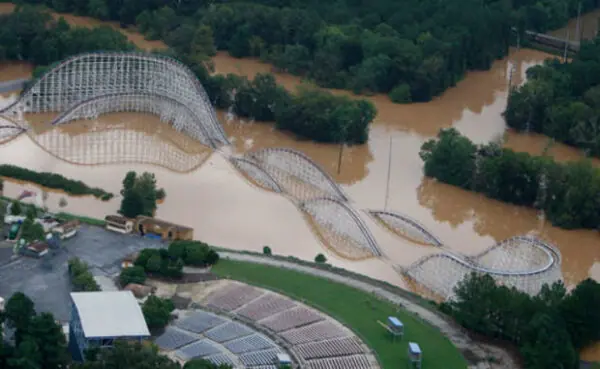 2018 SEC Championship Game rain: Poor stadium preparedness led to thousands of fans stuck waiting outside in the unseasonable freezing rains at the Mercedes-Benz Stadium in Atlanta ahead of the college football SEC Championship Game in 2018.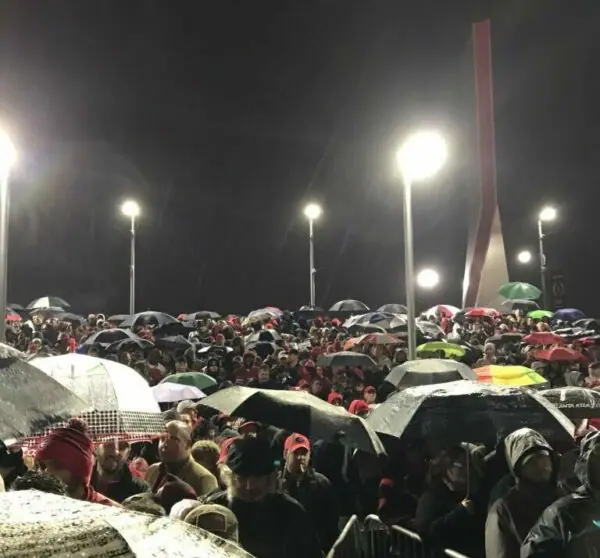 The Need for Actionable Forecasts
Sports and entertainment venues can't afford to be caught unprepared for inclement weather, especially during severe weather season in the Southeast United States. Stadium operators and event planners need accurate weather forecasts and full visibility into what's coming and when, so they can take the right preventative measures and alert fans and stakeholders well in advance.
As the data shows, severe storms, hurricanes, tropical cyclones, and other potentially destructive weather conditions are only going to keep happening in this region with greater frequency and severity.  With weather intelligence and visual tracking of hurricanes and tropical cyclone trajectories, sports and entertainment operators and executives can properly monitor all their venues across the Southeastern US during severe weather season to maintain the safety of their fans and protect their assets. 
See How Tomorrow.io Can Help Your Team
Prepare for Severe Weather Before It Hits