In the world of private aviation, the customer is everything.
You may already be asking your customers to shell out thousands of dollars for private charters and always-on experiences. You probably pride yourself on offering impeccable door-to-door service and luxury amenities like full-service kitchens, queen-sized beds, or walk-in showers. 
But there's one thing you can't always control when it comes to customer satisfaction: the weather. 
Why NPS Matters More in Private Aviation
Customer satisfaction is notoriously difficult to track, which is why companies commonly measure it through NPS, or net promoter scores. To calculate your NPS score, offer a single-question survey asking, "How likely are you to recommend [AIRLINE] to a friend or colleague? 
Essentially, NPS captures those word-of-mouth conversations happening in private clubs and dinner parties. When chartering a jet comes up, will they be mentioning you?
Responses vary from zero (not at all likely) to ten (extremely likely). By subtracting detractors (ratings from 0-6) from promoters (9-10), you're left with a final percentage. This is your NPS score, and it can fall anywhere between -100 and 100.
The average commercial airline NPS hovers around a 39—not so great. Luxury goods like Louis Vuitton (40), Hermes (11), and Chanel (4) perform even worse, failing to meet the high bar set by their price point and exclusivity. 
It's much harder to acquire a new customer than it is to retain an existing one. Building a loyal customer base takes time and patience, including a set of policies that lead with value, rather than price. This principle is something private aviation knows well. Companies with a loyal fan base like Starbucks, for example, score a 77.
As a private aviation organization, you offer the best of the best. Your customers know what they like and expect to receive it immediately — no matter what's going on with mechanical issues, snowstorms or thunderstorms, or staffing shortages. You're expected to make magic happen.
How to Improve Your Airline NPS With Weather Intelligence
You can't control the weather, but you can predict it more effectively with weather intelligence. building a better customer experience and improving your NPS. Here's how:
Leverage runway-level data:

Airlines need highly accurate, minute-by-minute weather intelligence, down to the runway level. Getting specific weather insights helps with routing, re-routing, and staffing to keep things running smoothly and avoid unwanted delays.

Workflow your decision-making:

Tomorrow.io

allows you to make takeoff, routing, and runway decisions in advance and in real-time based on upcoming wind, precipitation, and storm events. Automate your workflows, establish clear safety protocols, and make business decisions seamlessly instead of guessing about the forecast.

Create team alerts

: By having a single trusted source of weather impact truth with

automated team messaging and alerts

, your airline can ensure everyone is working off the same data, recommendations, and protocols 24/7. This will empower you to keep your employees safe and informed of any possible disruptions in service. In turn, you'll increase proactivity and give an overall better customer experience.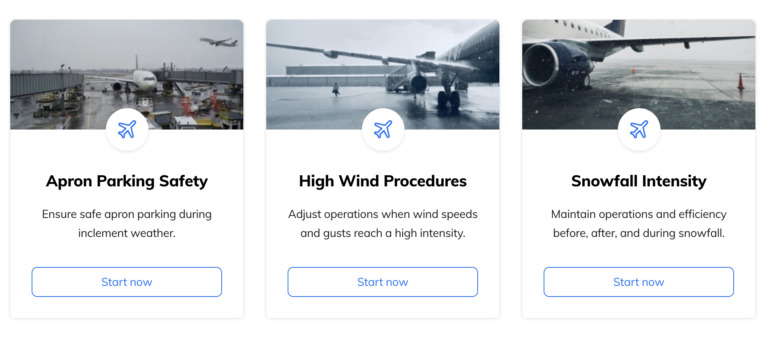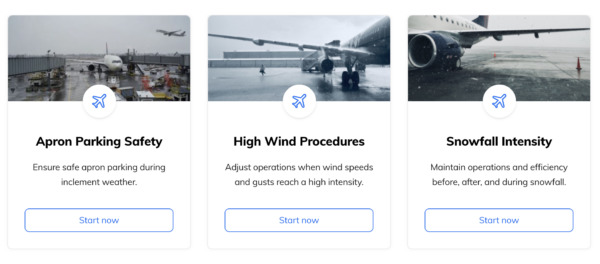 Prioritize customer communication:

Building a loyal customer base hinges on your ability to foster open lines of communication. With

weather intelligence

, you can set up

automated alerts

to let customers know what to expect before they leave their homes, provide detailed forecasts around their destination, and proactively warn them about in-flight issues like turbulence. 

Use historical weather modeling

: In order to identify current and future operational opportunities, you first have to understand the past. With Tomorrow.io's

Weather for AI

(WAI), you can generate the most accurate historical weather information around turbulence, wind speed, and more for millions of locations across the globe. These historical learnings can then be applied to AI-driven insights, empowering you to train your own models (or use ours), and predict future weather's impact on your private aviation operations.

Unlock improved efficiency:

Efficient companies make happy customers. With

predictive weather intelligence

, you'll know exactly when and what to schedule for maintenance and materials needs. Deicing, for example, can cost up to $10,000 per plane each time, while delays and cancellations can decrease customer satisfaction as a whole, leading to a loss in revenue.
With weather intelligence, you can proactively keep your customers informed whether on-route (like upcoming turbulence) or on the ground (like de-icing delays) to give them the kind of high-quality, white-glove service they expect from a private airline.
A Better Customer Experience with Tomorrow.io
Your private airline already delivers high-quality experiences your customers expect. But the weather is one element you can't control.
Thankfully, the more you know about incoming weather, the more likely you can provide an exceptional customer experience. That's where weather intelligence from Tomorrow.io can help. 
Do You Understand Your Aviation Weather Risk?
Get a Free Assessment Today.