With roughly $700B in global revenue, the mining industry appears to be a powerhouse in operational efficiency and process. But the truth is, the unexpected impact of weather on daily operations wreaks havoc on mining companies. Given the costs of operating a mine, something as seemingly small as inefficient crew scheduling can cost mines $15,000 per day in operational losses or significantly more depending on the size of operation. Regardless, once mining operations have commenced on a new or existing mine, there are a few key areas where weather has the biggest impact:
Crew scheduling
Access road conditions and usage
Crew and equipment protection
Crew Scheduling:
One of the biggest expenses of mining operations is crew scheduling. When crews get delayed or operations are unexpectedly cancelled due to incoming weather, mining companies suffer cost loss both in terms of wages in addition to project delays. With Tomorrow.io, mining companies can track the predictive impact of more than 30 weather parameters including rain, wind gusts, and even lightning cell movement. Below you can see an example of a lightning cell in real-time, and the expected path over the course of the next 15 and 30 minutes. Having access to these kind of weather impact alerts allow mining companies to preschedule crew shifts with confidence, reduce cancellations, and project delays.
Access Roads and Transportations:
Access roads pose a signifiant threat to mining operations. The reason for this is due to the amount of planning and resources it takes to transport crews from their homes and equipment to the mine itself, which is usually done via an access road that the mining company has had to build. If the access road, which is often time quite delicate, doesn't meet safety standards then there's no way to get in or out of the mine. If crews get stuck at the mine, the mining company is responsible for paying overtime, in addition to the crews not being able to return home to their families. This also means mining companies can lose money on trucking fees during times when they are unable to transport crews to the mine due to impaired access roads, impacting schedules and expected project deadlines.
Crew and Equipment Safety
Mining operations are severely impacted by the weather, both in terms of crew safety as well as asset damage. For instance, if unexpectedly rain or lightning strikes then crews often time cannot work due to unsafe conditions. If mining companies can see days in advance when shifts will need to be scheduled then they can plan accordingly, but unexpected weather is an unnecessary cost loss both in terms of wages and project delays.
When it comes to all the equipment and generators needed to run a mining operation, managing the weather can mean the difference in the lifetime and lifetime value of equipment, longevity, and ensuring machines are working properly so that normal operations can commence each morning. For instance, knowing when to shut down crane operations due to incoming high wind gusts can save both your equipment from being damaged in addition to crews getting hurt.
Weather Intelligence for Mining
As you can see, weather can be a defining factor in the success and safety of mining operations. Unexpected weather delays projects, burns budgets, and puts crews and valuable assets at safety risks. Having access to a predictive weather intelligence platform like Tomorrow.io allows mining companies to level up their mining operations to maximum efficiency, revenues, and safety.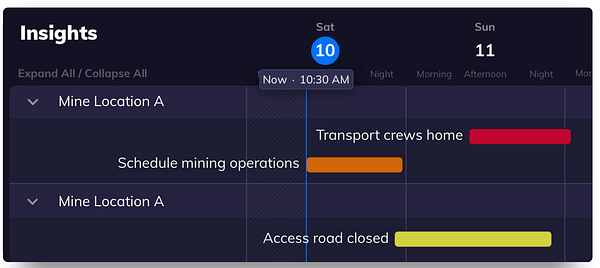 Dashboards like the one pictured above can be focused at a hyperlocal level in high resolution for global mining operators to use on a daily basis. The way Tomorrow.io dashboards work starts with simply entering the operations impacted by specific weather parameters into Tomorrow.io. These can include decisions such as not being able to operate machinery at certain wind gusts or lightning, or needing to know when access roads will be out of commission due to rain or floods, or when to schedule crews.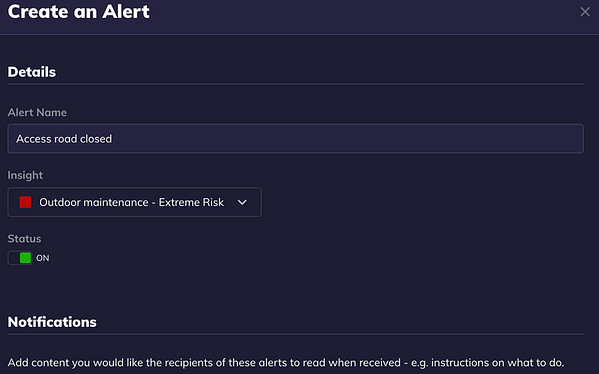 After your dashboards are set-up once, from there all of your future decisioning becomes automated and predictive. For each project detail you need to track, Tomorrow.io also sends out alerts and protocols to team members in advance. Alerts can be sent out days, hours, or minutes in advance and update in real-time. With Tomorrow.io's alerts and team messaging, you can ensure everyone is communicating from the same single source of truth and that all protocols are being followed. With Tomorrow.io's weather intelligence platform for mining, we give you the confidence you need to take control!
Start Taking Control of the Weather's Impact on Your Mining Operations Today