Tornadoes often occur with very little warning. Unlike hurricanes that can be tracked days or even weeks in advance, sometimes you only get few hours or even minutes of warning when a tornado will strike. 
So far, the 2021 tornado season has been very active. In March 2021, there were 191 preliminary tornado reports, which is more than double the 1991-2010 average for the month of March. And that's before we even get into the peak season; most tornados hit the US in April, May, and June. 
Tornadoes can have a devastating impact on your business. The August 2020 Midwest Derecho, which was the fourth-costliest insured tornado event on record for the US, caused $7 billion in insured losses in Iowa, Illinois, Wisconsin, and Indiana.
Even if your business isn't directly affected, your customers might still suffer if your employees or suppliers are in the tornado's path. There might be shortages in raw supplies, your deliveries can't get through, or your customers can't order goods. 
The increasingly unpredictable nature of severe weather events such as tornadoes means your business must be well prepared for all eventualities. But what is the impact on business leaders of being on high alert all the time and how can weather intelligence ease the burden?
More than a Forecast for Tornado Season
While you won't always get much warning when a tornado strikes, forecasters will sometimes be able to identify these high-risk weather systems a few days in advance. Only relying on information about what happened last year on a general scale, instead of considering local, current information will only get you so far. 
Simply tuning into the morning weather report means you aren't prepared, and you know it. You don't have access to the information you need to keep your employees safe and to minimize the damage when a tornado strikes. 
Since employers are responsible for the safety and health of their workers, you have to protect employees from risks such as tornadoes –– before, during, and after the event. This means maintaining a plan that alerts your workers to the dangers, but also ensures that they are safe during any clean-up operations. Business continuity is key, but profitability and maintaining operations must be balanced with keeping workers safe. 
Moving From Being Reactive to Proactive
What if you have access to the necessary data, but you don't see it fast enough to alert your team. For example, do you know the difference between a tornado warning and a tornado watch? A tornado watch means a tornado may develop, while a tornado warning means one is imminent. These warnings are only issued an average of 13 minutes before the events when it's too late to start preparations. 
Businesses need to be able to act rapidly in shifting, hazardous conditions to protect their assets and employees. But how can they do that if they don't have the alert sent out to the team immediately or it comes from multiple different sources that don't line up to provide an overall picture? 
Disaster preparedness starts long before severe weather strikes .  Businesses must invest in the infrastructure, risk assessments, matrices, and incident response plans in order to be prepared in case of a weather disaster. They also need to identify their tornado-related exposures so they can have the right insurance in place to recover speedily and not face disastrous losses.
Putting Weather Data in the Context of Your Business
You probably already have an emergency preparedness plan, but how quickly can you implement it in response to the forecast? If you don't react effectively to an imminent threat, then you're undermining your advance preparation. But how can you ensure you will be able to react effectively to the unknown? 
Companies need the right data and insight so they can respond quickly and decisively as soon as severe conditions materialize.
In other words, you need to put historical and real-time, hyper-local weather data in the context of your business: 
Shipping companies

need to re-route shipments to avoid the worst of the storm

Trucking operators

need to staff more drivers to deal with slower drive times, as well as keep drivers safer on the road, and limit the risk of damaged goods

Port authorities

need to reduce port closure time while balancing crew safety with profitability, as well as coordinating arrivals and departures to avoid damages to vessels

Insurance companies

need insight into short- and long-term weather predictions so they can accurately price coverage

Utility and energy businesses

need to reduce outage time by pre-positioning crews where outages will have the largest financial impact

On-demand companies

need to understand if orders spike even more during severe weather and how a spike in demand affects ETAs and drive times
Businesses are increasingly turning to weather intelligence for real-time risk assessments based on the weather. Weather intelligence allows you to act faster to prepare for any weather event, as well as ensure a rapid and complete rebound in the aftermath of a destructive weather event like a tornado.
The Power of Weather Intelligence for Disaster Preparedness
With weather intelligence, you can understand how the weather has changed and shifted over time. This enables you to identify patterns and see how the weather will likely change in the coming years, so you can build long-term plans. 
With Tomorrow.io, businesses can make decisions in advance and in real-time; they can have emergency preparedness plans in place but also react swiftly to fast-moving events with automated alerts if conditions become dangerous.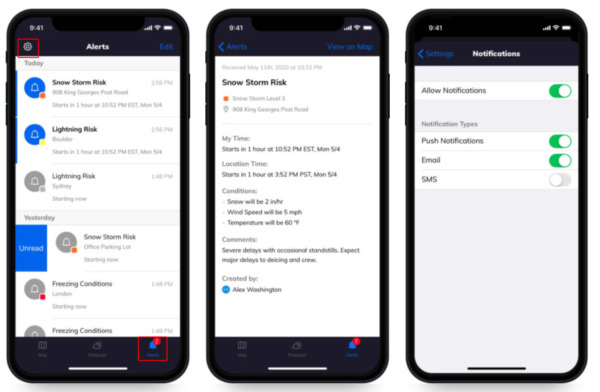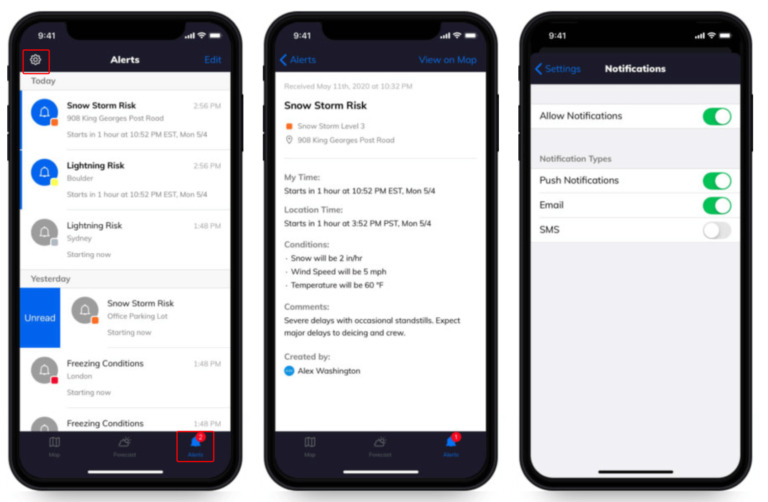 You can also customize data and encompass very specific parameters that are most useful to your business. If you only need historical weather data for the US and only need to understand flood risk for insurance purposes, that specific dataset is available. But if you need automated texts for your entire workforce during a tornado event, you have that as well.
In terms of keeping your employees safe, Tomorrow.io's alerts can automatically notify everyone when a storm is incoming, which saves you having to send out a manual alert in the event of a tornado. Your team will also be able to understand the exact steps they need to take to proactively mitigate the impact of operational, financial, and safety risks, as well as what they need to do when a tornado strikes. 
Make weather intelligence part of your operational strategy and emergency tornado preparedness plans today.