Cyclone Amphan is about to hit the North-Eastern parts of India on Wednesday.
On Monday, Cyclone Amphan turned into a "super cyclonic storm", also known as a Level 5 storm. It is likely to hit the coasts of West Bengal, Odisha, and Bangladesh on Wednesday. In addition to the extreme winds of up to 160 mph, very heavy rainfall is expected in those two states and most likely also in Sikkim, Assam and Meghalaya.
In 1999, another super cyclonic storm ravaged large parts of Odisha and Gangetic West Bengal. The storm was the most severe to strike Odisha in the 20th century, combining a massive storm surge with heavy rains. The storm caused widespread flooding, damaging around 1.6 million homes and destroying significant numbers of crops. At the time, the Government of India estimated 9,887 fatalities caused by the storm and total damage caused by the super cyclone was estimated at $4.44 billion.
Cyclone Amphan is predicted to have similar impact. Tomorrow.io's global urban flooding system is predicting severe and dangerous flooding in various cities in Odisha and West Bengal, including Bolpur, Chandrakona, Belda, Jaleswar, Pingla, Mayna, and many more.
Business impact: As with the 1999 storm, extensive flooding will hit infrastructure particularly hard. Roads, rail, electric grids, and more should all prepare for repair costs and mobilize teams for a quick response to the incoming storm.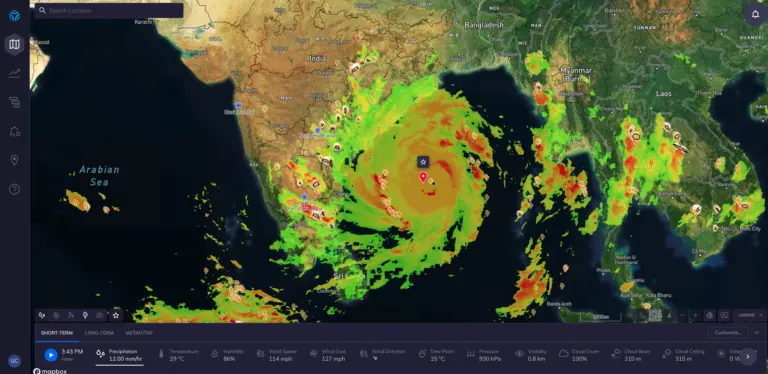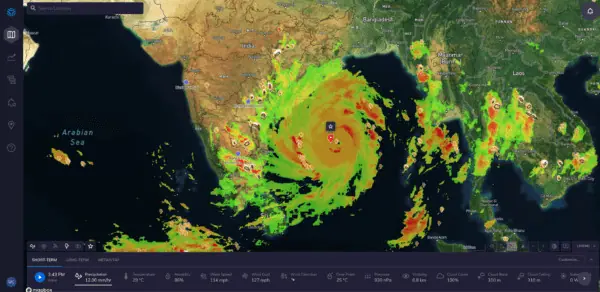 The super cyclone can be viewed and tracked in detail via the Tomorrow.io HyperCast system. Learn more about Hypercast.