What is Climate Security for Corporations and their Stakeholders? 
Climate security is the new cyber security. 
Climate change, severe weather hazards, high impact conditions – more frequent and more extreme weather conditions are here, and they're increasing in volatility. During the last few years, we have seen record-breaking events, from hurricanes in the US, typhoons and cyclones in the far east, heat stresses in Western Europe, the US, fires in Eastern Europe and Australia, and more devastating floods in many places on the globe. In 2022, the world saw 18 billion-dollar disasters; in 2023, we have already seen 12. 
Companies are exposed to the associated risks; energy companies, railways, logistics and retail, agriculture and food, and many more have similar challenges in common – how can they protect themselves from the changing climate and weather, how can they set processes that can help them monitor risks for their huge physical assets network and their large staff? 
These questions are on the table for many boards and CEOs of companies globally. 
While no one wants to invest in the next climate-related-bankrupt-company, we at Tomorrow.io ESG business unit have talked with many Sustainability Officers, Climate leaders, ESG Directors, Business Continuity Officials, Climate Innovation Communities, and Sustainability Consultants to help them understand how they can set a process to mitigate climate risk.
The Climate Security Process 
First, let's understand the best practice for the Climate Security process.
Usually, when a company is looking to understand the risks they face associated with high-impact weather and hazardous conditions, they will do the following:
Identify Climate Risk

– Physical risk and transitional risk. What are the climate-related challenges that impact the corporate from a financial perspective? 

Measure Climate Impact

– Create a Scenario analysis of multiple climate projections and their further impact on the financial value — potential loss and opportunities in the company's CAPEX, supply chain, Marketing, etc.

Disclose

– Increase transparency to your stakeholders – investors, customers, employees, and partners. There are many ways to disclose according to market standards, such as

TCFD

,

SASB

,

GRESB

, etc. The disclosure standards are here to help the market benchmark companies in similar industries. We can compare this methodology to financial reporting standards such as the IFRS.


____________________________________________________________________________________
MOST COMPANIES STOP HERE. Why? Because having an ESG disclosure is the new trend. This disclosure sometimes seems like 'more than enough.' When it comes to actual execution, reality can sometimes seem too complex. Different people with different prioritizations need to take this on (such as operations or engineering), the solutions are limited, and it is sometimes considered 'nice to have,' is it really?
____________________________________________________________________________________
Set Resilience Strategy

– Taking ESG goals and disclosure, conducting analyses, and creating a plan: re-think geographical footprint, M&A, supply chain considerations, and ways to detail the required actions for business resilience.

Build Resilient Capabilities

– Drive resilience execution, set process and risk management programs, and train staff.

Execute Resilient Operations

– Operational decision-making, prediction, and response to changing weather. Mitigate risk from extreme weather and/or use proactive weather processes as a business driver—ongoing compliance with upcoming regulations. 
How Can You Execute Resilient Operation At Scale?
Driving strategy to execution is always challenging, especially in the climate domain. For every company or organization that is operating outdoors, climate and weather inherently can be a risk or an opportunity. There are industries like aviation and maritime where weather management is regulated, and it's a must for these companies to run their business using sophisticated weather forecasting data and tools. But what about other companies and industries that operate outdoors? For a logistics dispatcher, the top safety concern is weather, specifically when your truck weighs 80,000 pounds, and braking may become a struggle when it's raining. For a Construction company – the wind is a massive concern for operating cranes. Mining company – landfall risk, water, and air pollution. Energy company – heat/cold stress associated with outages, winds, and lighting with crew safety and on and on for each industry such as Automotive, Agriculture, Local Government, Venues, etc.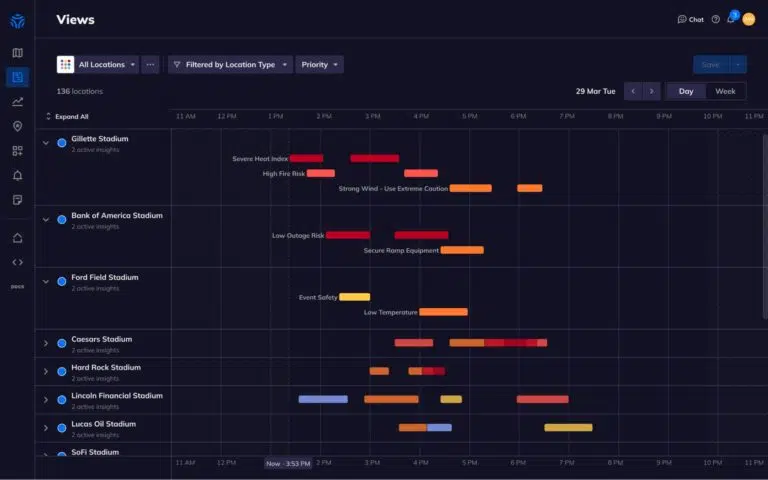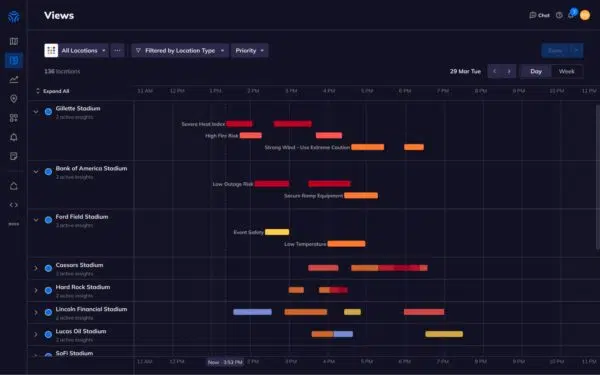 How Can You Manage Weather at Scale?
Some adaptation practices may involve physical solutions like strengthening structures, moving assets to safer places, and deploying monitoring systems which may be expensive to do at scale. We at Tomorrow.io developed a digital platform (Dashboard and API) that utilizes real-time weather data and weather prediction models and make it accessible to anyone through our virtual Monitors approach – choose a location, choose the weather conditions and thresholds, and let our platform work for you and sending alerts and notifications to your stakeholders – team, sub-contractors, management, and others. Using this method, we are able to support our customers to stay ahead of the weather, be more proactive, and utilize weather to enable operational and business decisions.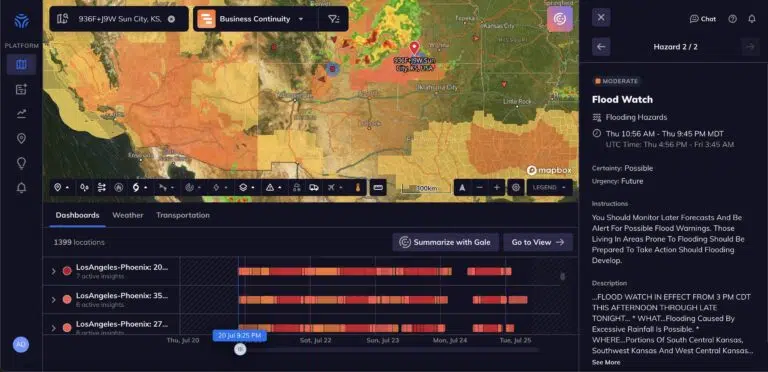 How Operations Teams Benefit From Effective Climate Risk Management
Daily execution in a company is usually within the ops team. The obvious objective of an operation team is to ensure the smooth and efficient functioning of day-to-day business operations. The impact that operations teams have on their company is often more significant than they think it is, and the story is even bigger when it comes to climate risk mitigation. When companies can tie operational activity to strategy and vice versa, the corporate can close the loop on how it thinks and operates. 
Tying operational activity to strategy has a massive impact on the company's risk management approach and further on sustainability and ESG strategies that can go back to the market as data points for smart investors. Today, many companies disclose their climate change strategies in ESG and Sustainability disclosures, but not many are going the extra mile to reveal how they solve for these risks.
If we are observing the TCFD recommendation, which is the leading industry climate disclosure standard, we can see that TCFD recommends going a few extra miles and disclosing the processes for managing climate-related risks or what actions the company is taking to mitigate climate risk. 
You can start using Tomorrow.io platform today for Operational Excellence while reducing your Climate Risk! Get a demo here.