We're thrilled today to announce an exciting panel at ClimaCon 2020: Enabling Prosperity in Africa Through Weather and Tomorrow.io.org.
This panel will feature an impressive slate of speakers, including Efosa Ojomo, Global Prosperity Lead, at the Clayton Christensen Institute, Dr. Bernard Kiplimo, Minister of Agriculture for Nandi County, Kenya, and Ronald Diang'a, Executive Chairman for Kenarava. The panel will be hosted by Executive Director of Tomorrow.io.org, Georgina Campbell Flatter.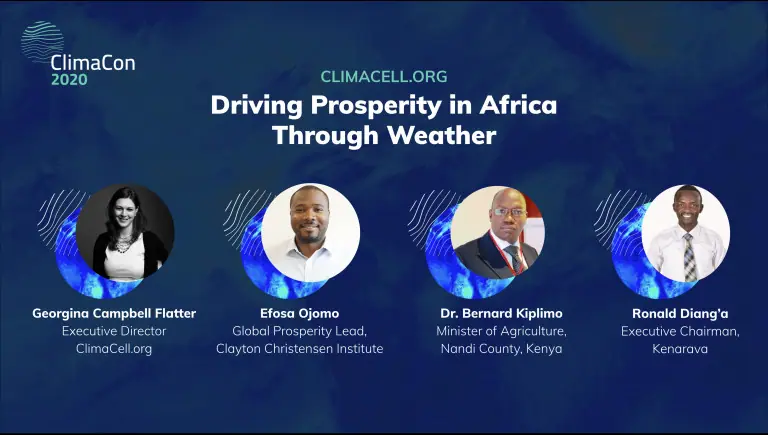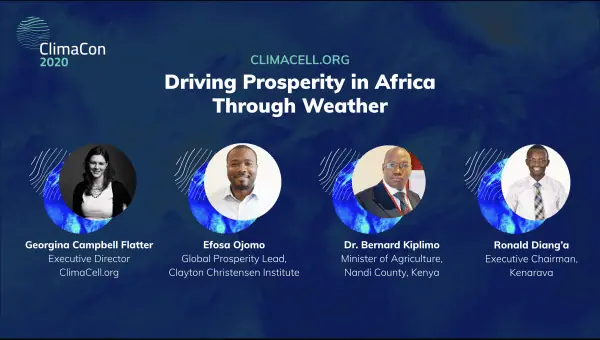 More about our speakers:
Efosa Ojomo leads the Global Prosperity research group at the Clayton Christensen Institute for Disruptive Innovation, a think tank based in Boston and Silicon Valley. In January, 2019, Ojomo and late Harvard Business School professor Clayton Christensen published The Prosperity Paradox: How Innovation Can Lift Nations Out of Poverty. In a Wall Street Journal review of The Prosperity Paradox, Rupert Darwall writes: "The authors return the entrepreneur and innovation to the center stage of economic development and prosperity."
Ojomo's work has been published and covered by the Wall Street Journal, Harvard Business Review, the Guardian, Quartz, Forbes, Fortune, The World Bank, NPR and several other media outlets. He speaks regularly on innovation and has presented his work at TED, the Aspen Ideas Festival, the World Bank, Harvard, Yale, Oxford and at several other conferences and institutions. Ojomo graduated from Vanderbilt University with a degree in computer engineering and got his MBA from Harvard Business School.
Dr. Bernard Kiplimo Lagat is a Development Economist with over ten years' experience in consultancy, research and training in both public and private sectors. He holds a PhD in Agricultural Economics and Resource Management from Moi University, Kenya; an MSC in Agricultural Economics and a BSc in Agricultural Economics from Moi University. Dr Lagat is currently the Chief Executive Committee Member (CECM) for Agriculture and Cooperative Development
He is formerly a Senior Lecturer at Moi University where he serves as a Postgraduate coordinator and Chairman Departmental Graduate Studies Committee. He is an African Development Bank STAARS fellow and a visiting Fellow at Cornenll University and a Postdoctoral fellow at the University of Siena in Italy where he was involved in the Work package 7 of the European Union, FP7 project (BIOWASTE4SP)- Turning biowaste into sustainable products: development of appropriate conversion technologies in developing countries. He is a Senior Consultant and Partner at Leocrest Consulting and a full-time senior lecturer in the Department of Agricultural Economics and Resource Management, School of Business and Economics at Moi University, Kenya. His research interests include: Impact Evaluation of public policies, Sustainable Development, Value Chain Development Agricultural Finance, Risk Management and agricultural Insurance, Agricultural Land Policy.
He has strong empirical skills in Impact evaluation, Value chain analysis and Microeconometric modelling and analysis. He is proficient in several softwares including STATA, SPSS, Eviews and R. He has over 10 years of experience in research in Impact Evaluation, Development economics and Agricultural Value Chain Development. He has undertaken several consultancies for a number of institutions including West Africa Monetary Institute (WAMI) in Accra Ghana, Central Bank of Nigeria (CBN) Abuja, USAID, African Union, European Union, Government of Kenya, County Governments in Kenya, and a number of Private Companies. He is currently an active member of AGRODEP, PEP, AIEN (AGRODEP IMPACT EVALUATION NETWORK), AES, IAAE, AAAE, and AFMA among others. Dr. Lagat is married with two children.
Ronald Diang'a holds a Bachelor of Science degree in Geology from the University of Nairobi, and a Diploma in Advanced Agriculture from AICAT, Israel. He is a seasoned agribusiness trainer whose skills have enriched Kenarava's profile since inception.
As an established epitome of youth empowerment, Ronald is continuously devising means and ways of effecting the increased participation of youth and women in spheres of national food security. He has played key consultancy roles for various international organizations, which strongly affirms his sharp analytical skills. Ronald's process-oriented resolve has earned him the brand of "a great teacher", thanks to his hands-on approach in the implementation of agribusiness training programs.
Away from his busy work schedule, Ronald is either exploring the outdoors, camping, or striking up a conversation over a cup of coffee Recently, he was recognized as the "Youth Agripreneur of the year 2019" at the 254 Youth Entrepreneurship Awards & Mentorship Program