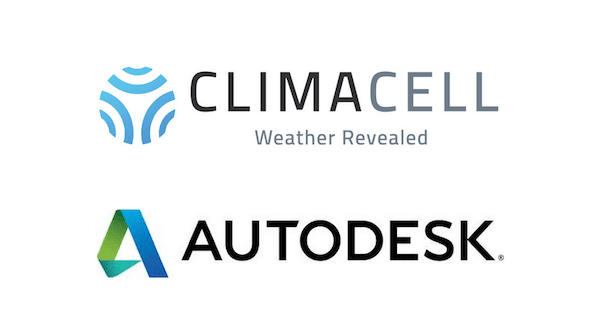 BOSTON, November 13, 2017- Today, Tomorrow.io, a software-based hyper-local weather forecasting company, announced a partnership with Autodesk's Connect & Construct Exchange, a new integration program intended to create a more connected workflow for Tomorrow.io and Autodesk's shared customers in the construction industry.  The announcement was made at Autodesk University, the 3D design, engineering, and construction management software company's annual user conference in Las Vegas.  
Tomorrow.io also announced the general availability of its API. This opens up Tomorrow.io's unique weather sensing technology to be integrated with any digital enterprise or to be offered as part of any a SaaS-based solution.  
Through this integration, Autodesk customers can use Tomorrow.io to automatically send and receive minute-by-minute notifications via email and SMS, for example to notify a crew of the type of precipitation to expect as well as the exact minute at which it will start and stop.
Itai Zlotnik, Tomorrow.io's CVO, says, "The API provides the most granular view of the weather out there – down to 500 meters. We're thrilled to partner with Autodesk to help their customers more effectively make and communicate operational decisions due to weather at their work sites."
Autodesk customers can also access Tomorrow.io's HyperCast™, a web-based HD map from anywhere, which automatically pins a user's relevant job sites with street-level precision that is 10x better than other weather sources.  HyperCast™ provides a responsive interface through which weather-related operations can be managed, enhancing safety and notification procedures for construction companies who need a reliable way to keep various stakeholders aware of real-time and upcoming conditions.
"Knowledge is power, but when it comes to construction, Tomorrow.io's real-time weather information means safety for construction professionals and greater insight on projects," said Sarah Hodges, Director of Autodesk's Construction Business Line. "We are proud to have Tomorrow.io as one of our inaugural Connect & Construct Exchange partners, and we are confident our shared customers will greatly benefit from the integration with the BIM 360 workflow."
Tomorrow.io will demonstrate The API and HyperCast™ dashboard at Autodesk University, November 14-16, 2017 in Las Vegas, in booth B414 and also at the Autodesk BIM 360 booth C600 on November 15 from 4:00-6:00 pm.
Tomorrow.io, which launched in April 2017 and is backed by Square Peg Capital, Ratan Tata, Project 11 Ventures and the Graduate Syndicate, creates proprietary weather observation data from wireless networks. This real-time data is fed into its proprietary nowcasting models, along with other sources such as radar and satellite, providing weather prediction down to the street-level and at one-minute intervals into the future, as well as traditional days-ahead forecasts. The API's data quality is unmatched in the weather industry, achieving up to 90% correlation with ground truth, as opposed to 50% correlation achieved by other sources. 
Beyond construction and outdoor services, the API has also recently been used by Outernets as part of their AdWeek displays, and it is also in use by a major ride-sharing company and a financial services firm. Tomorrow.io expects customers to include transport, retail, media, financial services and on-demand economy companies.
Documentation for the Tomorrow.io API is available at https://www.tomorrow.io/weather-api/.
About Tomorrow.io:
Tomorrow.io, Inc. is a Boston-based weather technology company that provides high-definition weather forecasting tools to businesses and governments worldwide. Tomorrow.io is the first to offer instant access to reliable street-level weather data in real-time. For more information, please visit Tomorrow.io and follow on Twitter @WeatherRevealed
Media Contact:
Kristen Wiltse, KW Communications
978-927-1747