Update August 27: 
Hurricane Laura Laura made landfall last night around 1 am CDT as a strong category 4 hurricane near Cameron, Louisiana. The storm has already caused extensive damage to the area.
However, the storm weakened as it hit land. Maximum sustained winds decreased to 120 mph, but a hurricane warning remains in effect from High Island, Texas to Intracoastal City, Louisiana.  Although now inland, Laura remains a very strong storm with widespread wind and rain impacts continuing along the Texas/Louisiana border and into Arkansas today. Conditions will slowly improve for coastal locations through the day today with Laura expected to weaken into a tropical storm by tonight.
______________________________________________________________________________
Hurricane Laura has strengthened to a Category 4 storm, with sustained winds up to 140 mph. It is likely to maintain Category 4 status today and make landfall as a strong 3 or a 4 near the TX/LA tonight, coming ashore east of Houston.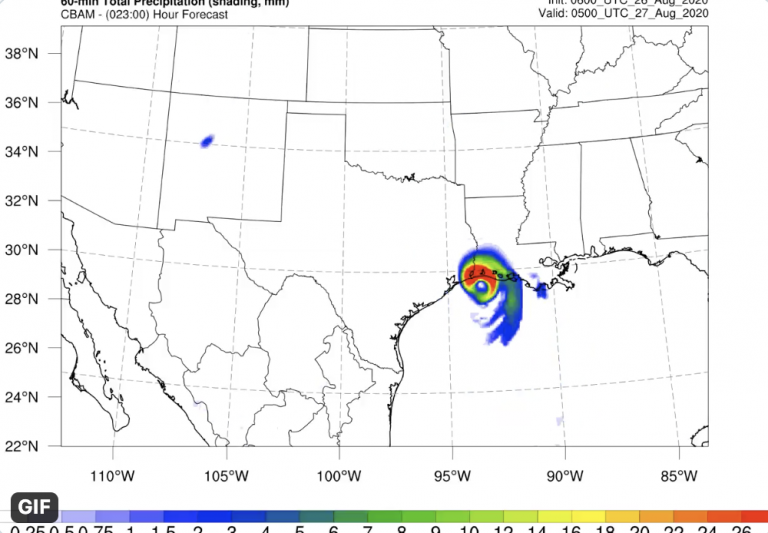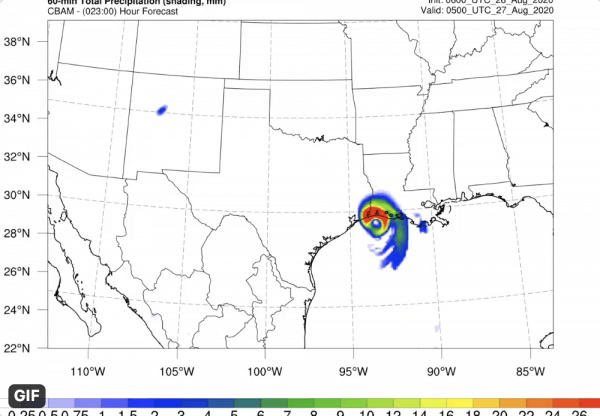 Visual created with Tomorrow.io's CBAM platform.
Houston and Galveston look to be on the weaker side of the hurricane at landfall, with offshore winds blowing from the north to help lessen the overall height of the storm surge. Meanwhile, onshore winds from the south pushing into Louisiana will be perpendicular to the coastline and increase the overall height of the storm surge, which is predicted to rise as high as 30 feet.
Hurricane force winds may begin to affect Beaumont, Port Arthur, and Lake Charles after 10pm tonight, but the strongest winds stay east of Houston and west of New Orleans. Houston could see tropical storm force wind gusts, but may miss out on most of the rain. So this hurricane looks to be far less impactful to Houston than others have been in the past 10-12 years.
Likewise, New Orleans is also spared the worst, though they will be on the right side of the storm and more in line to receive heavy rain squalls and possible tornadic spin-ups in the outer rain bands. Hurricane force gusts may extend inland to near Shreveport, LA, Thursday morning. The risk for a few tornadoes in the rain bands will extend inland into northern Louisiana and Arkansas on Thursday as well. Laura quickly weakens to a tropical depression through the day Friday and tracks through the Mid-South into the Mid-Atlantic this weekend.
Business impact of Hurricane Laura
For businesses in the impact zone of Hurricane Laura, the message is clear: evacuate. The high winds, storms surge, possible tornadoes and flooding all make this storm incredibly risky for businesses in any industry, including:
Energy and Utility Companies: Activate your emergency response protocols and be prepared for extensive damage to infrastructure across the affected areas, with lengthy outages expected. Leaders should take into account new protocol around COVID-19 response as well.
Logistics and Supply Chain: Expect deliveries, transport, and all parts of the supply chain in the area to be shut down entirely along the path for the Hurricane. Include this in any calculations for expected ETAs and adjust routes to avoid the storm.
Maritime and Ports: Any port locations in the area should be prepared to fully shut down and could sustain extensive damage to facilities from the storm surge.