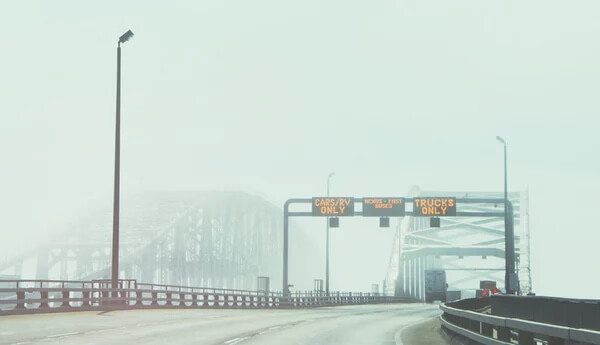 Many things in life — and on the road — are unpredictable. But what if you knew how weather will impact road conditions BEFORE your drivers hit the road, allowing them to plan alternate routes, reduce delays, and increase safety?
While some roads present tough conditions year round (a whole other topic…), some start posing a risk once they are impacted by weather-related factors. Precipitation, temperature, visibility, wind, frost,and flooding — and the interaction between them — can all cause road conditions to be worse than normal and pose a risk to safety as well as to operations and customer satisfaction.
But what if you knew the level of risk in advance, enabling your drivers to navigate through and around treacherous roads? Tomorrow.io's Road Risk Score is a rating system of how current and forecasted weather conditions impact road conditions on a road-by-road level across the entire continental U.S.

And the Score is…
Tomorrow.io's 5-point rating scale lets drivers know what to expect on the road, up to 18 hours before reaching the impacted area. The risk score takes into account observed and forecasted weather, including precipitation intensity, precipitation type, frost likelihood, visibility, and more, and result in a score of 1 ("low risk) to 5 ( "severe or extreme risk.")
1 = Low
There is little-to-no discernable weather-related risk right now. Skies are generally clear, and there hasn't been precipitation lately.
2 = Moderate
You're probably looking at either some precipitation, like rain, or lowered visibility due to fog or mist.
3 = Moderate-High
There's probably a combination of precipitation, lowered visibility, and slick roads.
4 = High
Visibility is likely to be low, precipitation is probably occurring, and roads are likely to be slippery with ice, frost, or snow.
5 = Extreme
Visibility is probably quite bad, and precipitation is a given. Heavy snow is probable, and roads are likely to be slick. Alternatively, flooding could be present.
Who Needs Road Risk Scores?
Any company that has a significant number of drivers on the road knows all too well how weather conditions of all sorts, often with little advance warning, can impact operations. And so, knowing how weather will affect roads, long before drivers get on their way, can yield significant improvements in operations, customer satisfaction and safety.
Transportation companies, for example, can use Road Risk Scores to help their drivers avoid risky roads and related delays. On-demand rideshare services can use this information to better route drivers around known risks. Construction companies can ensure their crews do not get stuck in unanticipated traffic on the way to jobs.
And Road Risk Scores can also be useful when there are no drivers on the road, either during the design process or by design (ie, autonomous cars). Carmakers and suppliers can obtain real-time information on how cars react in certain weather conditions and modify their products accordingly. The brakes on newer cars, for example, often become more sensitive when the car detects slippery conditions. They can also be sensitized if an object appears within a small distance from the front of the car. Of course, for autonomous vehicles, accurately forecasting weather conditions and how they impact road risk will be of critical importance.
Another powerful application of the Road Risk Score: the marriage of Road Risk Scores with traffic information. This combination could help estimate the likelihood of severe traffic delays, days in advance (with such estimates improving in accuracy as the event time draws near). Drivers could learn ahead of time that road conditions will likely be bad in the morning, for example, and plan to work from home or leave earlier or later than usual. Now that is a helpful forecast!