Hurricane Isaias strengthened to a Category 1 Hurricane overnight, with maximum sustained winds of 75 MPH.
With the storm tracking northwestward at 17 MPH, a hurricane warning is now in effect for The Bahamas and a Tropical Storm Watch has been issued for the east coast of South Florida.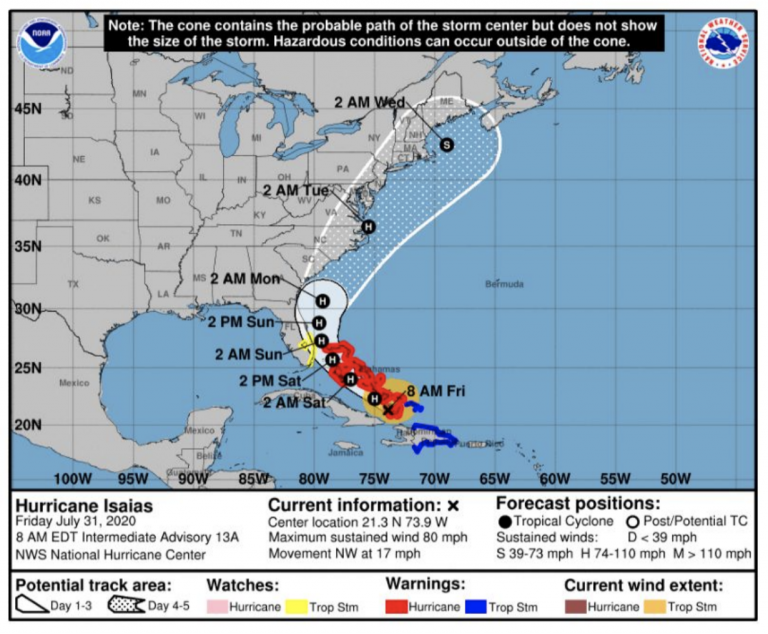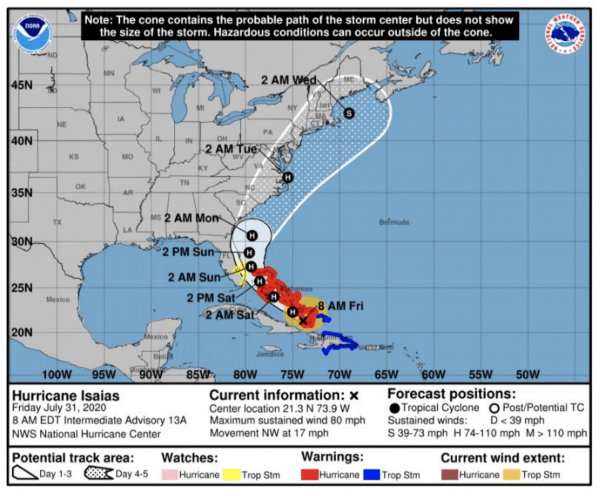 While Isaias is noteworthy on its own, its historical context is also important, as it will be the earliest "I" storm on record.
This storm is just the beginning of what is shaping up to be an extremely active hurricane season in 2020 — one that is further complicated by COVID-19. 
It's too early to know the precise impacts of Isaias across the Caribbean and Atlantic coast, but small changes in its current forecast trajectory could mean hugely different impacts on residents on either coast of the Florida peninsula. Because of this, the weather and emergency management communities will pay close attention to assess the need for evacuations or opening storm shelters in affected communities.
In such an active hurricane season, a few questions naturally arise: 
How many large storms are we likely to see this year? 
How will we have to adapt and change emergency protocol because of COVID-19?
And how soon can we adapt to these incoming storms?
The 2020 Atlantic Hurricane Season Begins
As of July 30, there have been 9 named tropical systems in the Atlantic reaching hurricane strength (Hanna, just this past week). This is particularly exceptional: metrics like Accumulated Cyclone Energy (ACE) are nearly double what we would expect them to be by this time in the hurricane season (see figure).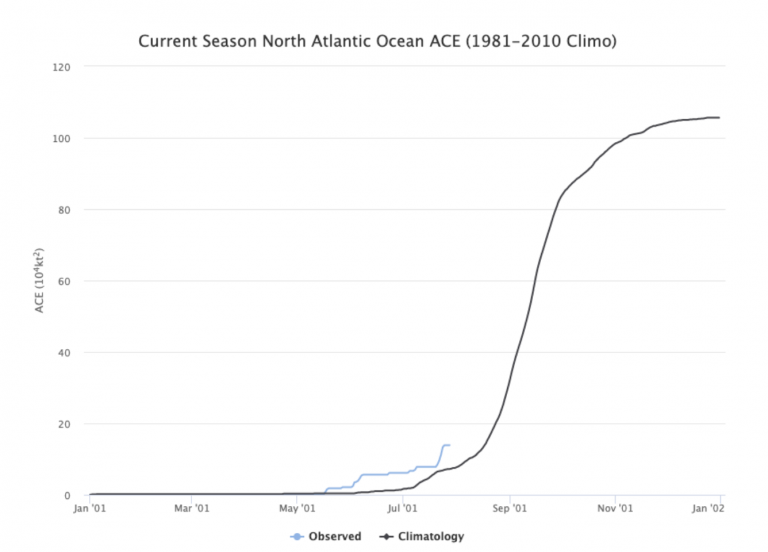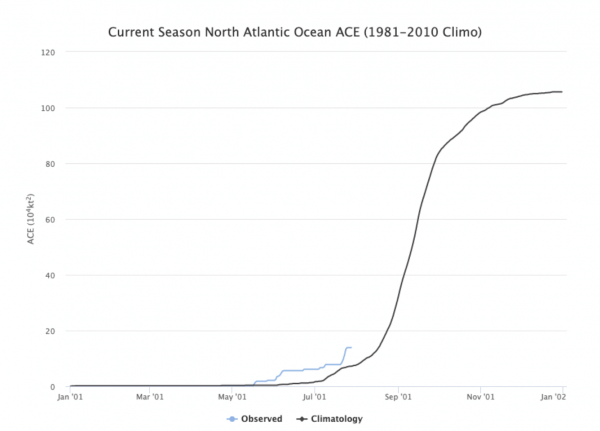 Season-to-date "Accumulated Cyclone Energy", a metric of the strength and activity of tropical systems in a given year. As of July 30, the 2020 season is doubling the climatological average due to the intensity of recent Hurricane Hanna and the number of storms so far. Source: Colorado State University 
The above-average activity this year was anticipated by forecasters earlier in the Spring and Winter. An expert team at Colorado State University which has been publishing seasonal forecasts of tropical system activity for several decades originally projected an active system with 16 total named storms (as opposed to an average of about 12) back in April. That forecast was revised upwards to 18 named storms later in June, as other major national meteorological organizations including NOAA and Mexico's Servicio Meteorologico Nacional respectively projected active seasons. 
Above Average Hurricane Activity this Season 
Why is this year looking as though it will be a more active hurricane season than usual? In their 2020 Hurricane Season Outlook, NOAA cited a few large-scale weather patterns that were potentially favorable for the development of tropical systems:
We're currently in an

on-going "Atlantic Hurricane spell" since around 1995

. Some published scientific work attributes this spell to a long-term cycle in sea surface temperature patterns in the Atlantic called the Atlantic Multi-Decadal Oscillation (AMO). In the current phase of the cycle, the Atlantic is generally warmer – especially in the main region north of South America where many tropical systems are born. Warm seas are a key fuel driving the development of tropical systems.

Another cyclic weather phenomenon, the

El Nino-Southern Oscillation (ENSO)

, will most likely be in a "neutral" phase this season. ENSO is associated with changes in patterns of warm surface water in the equatorial Pacific ocean; when these patterns change, they influence weather patterns across the world, including in the aforementioned region of the Atlantic breeding ground for tropical systems. The "neutral" phase of ENSO and it's "cool" phase, La Nina, are generally associated with conditions favorable for the genesis of tropical systems.
Although recent storms such as Hurricane Douglas — with its close-call for landfall in Hawaii —  have garnered headlines and a great deal of media attention, the Pacific basin hasn't been quite as active this year, with only four named storms to date.
It's important to note that the forecasts for an above-active hurricane season don't necessarily mean there will be a higher number of landfalling storms in a given year. Where storms form and the weather patterns that steer their trajectories are more difficult to forecast ahead of time. 
But in any active year — or really, any tropical season! — it's prudent to be alert and prepared in the case a storm does pose a serious threat to the public.
2020 Weather and COVID-19
Because this year is likely to have a high number of storms, the concern immediately arises: how can residents safely prepare for storms while still following COVID-19 health guidelines?
Many of the usual emergency preparedness and emergency response protocols violate social distancing. For example, going to a storm shelter would expose you to a large number of people indoors. 
Because of this, the CDC has issued revised guidelines for Hurricane season during the COVID-19 pandemic and FEMA also issued new protocols to follow. The guidelines include:
Give yourself more time than usual to prepare your emergency food, water, and medicine supplies and don't rely on online ordering in case of disruptions to the supply chain.
If you need to go to a disaster shelter, follow CDC recommendations for staying safe and healthy in a public disaster shelter.
If you will be staying with friends or family outside your household to evacuate from the storm, talk to the people you plan to stay with about how you can all best protect yourselves from COVID-19.
See the full CDC guidelines for more details. 
This year will likely be a challenging Hurricane season, and residents and businesses in areas that will likely be impacted should be prepared in advance to adapt quickly to any incoming storm. 
Here at Tomorrow.io, we'll be covering it extensively — so make sure to check back for the context you need on this year's weather.