Get ready for the largest weather intelligence conference in the world: ClimaCon 2021.
Taking place on Wednesday, Apr 28, from 9 am – 11 pm ET, ClimaCon is the free digital event exploring the global impact of weather.
With a record-breaking 30 hurricanes and tropical storms, massive wildfires, flooding, and much more, there is a new and expanded focus for ClimaCon 2021. This year's event will focus on how the best businesses, governments, and scientists in the world are adapting to the risks posed by the weather.
The event will also highlight:
Why climate resiliency is defining the next generation of COOs

How weather intelligence vastly differs from weather data
Why we are building the first-of-its-kind proprietary satellites equipped with radar, and launching them into space to improve weather forecasting technology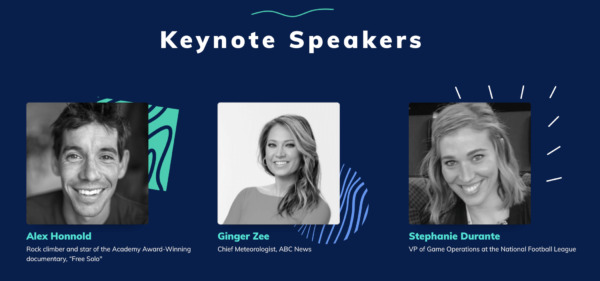 ClimaCon sessions will include a number of exciting speakers, including a discussion with Alex Honnold, the renowned rock climber and star of the Academy Award-winning documentary, Free Solo, talking about how weather affects top athletes. 
ABC's Chief Meteorologist Ginger Zee will dig into her experiences in the past year, covering some of the world's biggest weather stories, while Joan Mulloy will share her story of sailing solo around the world in 70 days. 
We also have an amazing lineup of executive speakers from companies, including:
The NFL
Ford
ABC News
NASA
Bill & Melinda Gates Foundation
Raytheon
Aeroméxico
The U.S. Open
Everbridge
SB Energy (SoftBank Group)
IndiGrid
ITS ConGlobal
Kajima
Aura Air
and more!
We'll also hear from the Tomorrow.io team about our industry-leading weather intelligence platform, and why privatization is the future of weather technology.
The event is free and open to the public, so don't miss out on the weather technology event of the year.