Hurricane Season 2020 made history this week.
In the Atlantic Ocean tropical basin, there are simultaneously five named tropical cyclones — hurricane, tropical storm or tropical depression — for the first time on record.
Tropical Depression 21 in the eastern Atlantic just northwest of the Cape Verde Islands was upgraded to Tropical Storm Vicky, joining Hurricanes Paulette and Sally, Tropical Storm Teddy, and Tropical Depression Rene.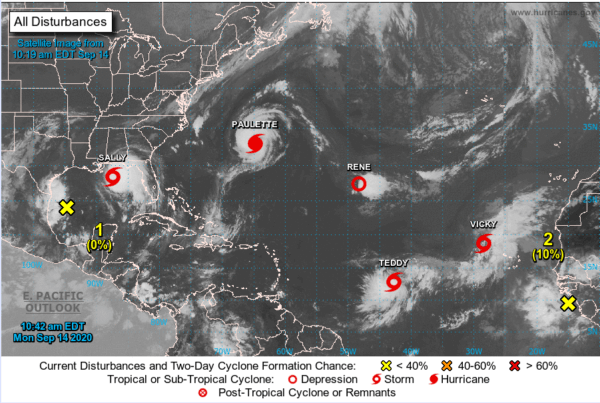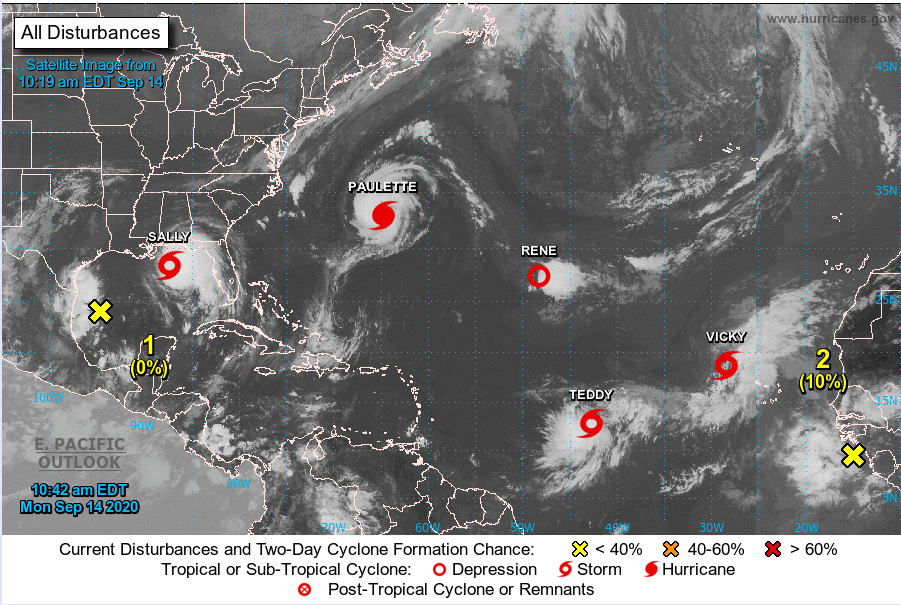 This was the firs time since 1971 that there have been five tropical cyclones simultaneously.
In fact, there were six tropical cyclones during one day in September 1971. However, no more than four were named at one time. On September 12, 1971, there was Tropical Storm Edith, Tropical Storm Fern, Hurricane Ginger, and Tropical Storm Heidi; along with two Tropical Depressions. One of those Tropical Depressions would ultimately become Irene, however it was not named until September 17, 1971 – after Fern and Heidi dissipated.
This unique occurrence may be short-lived, as Tropical Depression Rene continues to weaken, and may dissipate by Wednesday. However, another tropical disturbance departing the western African coast bears watching for development by late week.
Here's what you need to know about the incredibly active 2020 hurricane season right now.
Multiple Hurricane Forecasts
Of the current tropical storms, Hurricane Paulette tracked directly over Bermuda on Monday morning, with wind gusts to 89 mph reported at Bermuda Airport. More locally, Hurricane Sally is in the northern Gulf of Mexico, and is likely to make landfall near Biloxi, Mississippi on Wednesday night.
Sally will likely strengthen to a Category 2 Hurricane by morning, with maximum sustained winds near 100 mph. In addition to tropical-storm-force to locally hurricane-force winds, prolific rainfall amounts are expected from Sally, as it slows down near the Gulf Coast. A large swath of 8-15″ rainfall anticipated along southeastern Louisiana, southern Mississippi, southern Alabama, and far western portions of the Florida panhandle. Higher localized amounts of 15-20+" will be possible from Gulfport/Biloxi, MS eastward through Mobile, AL. Sally weakens to a Tropical Depression over Alabama by late Wednesday, then departs the Southeast U.S. late Friday into Saturday.
More Storms in the Coming Weeks
Unfortunately we have just entered the peak of Atlantic tropical season. September 10 is considered the climatological "peak" of tropical cyclone occurrence. This means there may still be numerous named storms to come in 2020.
After Vicky, comes Wilfred, the 21st named storm of the season. Once all 21 names (as determined each year by the World Meteorological Organization) for a given year have been allocated, any named storm thereafter will be named after a letter in the Greek alphabet.
The only other occurrence in which the Greek alphabet was used, was in 2005, when a record 27 storms were named — resulting in the usage of Greek letters Alpha, Beta, Gamma, Delta, Epsilon, and Zeta.
Twelve of the 28 storms named in 2005 developed after September 15. If that pace is duplicated in 2020, that would result in an unparalleled 32 named storms! That would require using the first eleven letters of the Greek alphabet – which includes the letters above, plus Eta, Theta, Iota Kappa, and Lambda.
Let's hope that does not come to past, but it is a reminder that the season is far from over.