It's been a productive year for the Tomorrow.io product team with the addition of several new data layers, significant improvements across the UX of our platform, a new user role and more!
As we look back on some of our latest releases, we've already been hard at work on our Q3 roadmap and beyond. Here's a recap of our latest releases:
Tropical Cyclones
We've released a new, visual tropical cyclones layer in the platform to help you prepare and protect your operations against tropical threats and coastal hazards. Users can visualize official tropical cyclone forecast tracks, cones of uncertainty, intensity forecasts, and past track details as issued by the National Hurricane Center.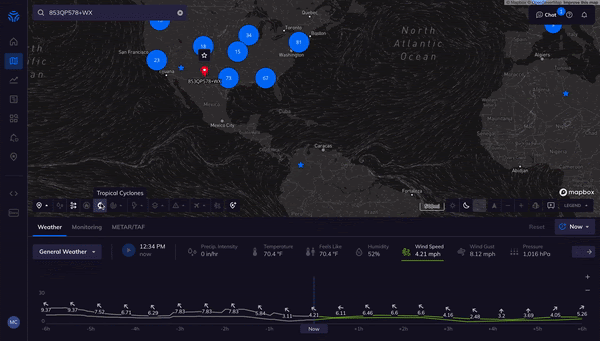 Instantly identify if your operations or assets are along the predicted track or within the cone of uncertainty. Users can also view observed point details, including maximum sustained wind and sea level pressure, and forecast point details, including speed and direction of movement, maximum sustained wind, and wind gusts. You can supplement the tropical cyclones layer with Tomorrow's severe weather advisory for insights and alerts.
Read more about it here and please contact your account team to access the Tropical Cyclones Layer.
Expansion of Hail Index
We're excited to announce the expansion of our Hail Index with coverage available across the contiguous United States, Canada and portions of Northern Mexico (previously only available for Canada). The Hail Index can be accessed on the platform and via the API.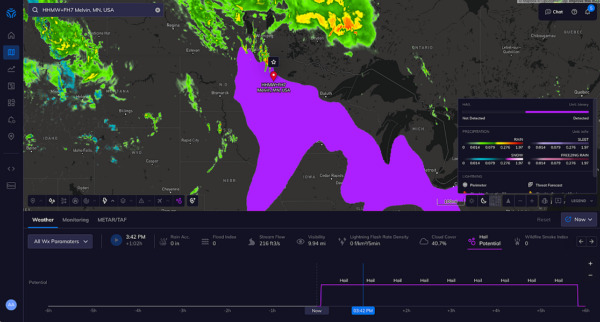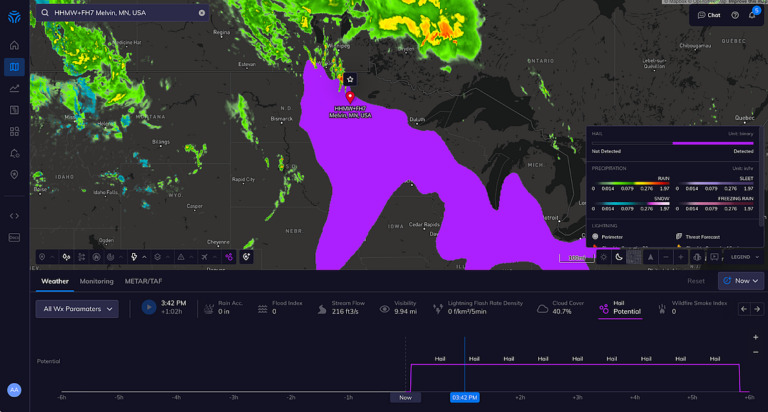 Users can monitor when and where hail is expected (0 – hail not probable or 1 – hail is probable) with hourly forecasts out to 48 hours and set up actionable alerts and insights to proactively protect assets from devastating damage and avoid insurance claims.
Read more about it here and reach out to your account team for access to this premium add-on or if you have any questions about this!
New Wildfire Smoke Index
We've launched a new wildfire smoke product powered by Tomorrow.io's proprietary emissions model that is built using the active fire hotspots (location + radiative power). The Wildfire Smoke Index indicates the risk of severity of near-surface smoke between 1 (mild) and 5 (severe) that corresponds to unhealthy concentrations of pm25.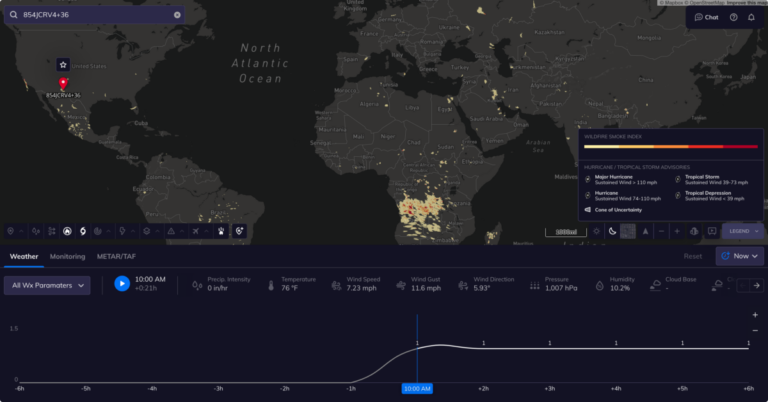 Available via API and the Platform (insights, alerts, map), users can visualize the origin, extent, movement, and severity of near-surface smoke out to 48 hours in the future and also receive insights and alerts  indicating the potential for reduced visibility and hazardous air quality.
The Wildfire Smoke Index is part of our comprehensive suite of fire, smoke, and air quality products: Active Fires, Fire Index, and Wildfire Smoke Index.
Read more here and reach out to your account team for access to this premium add-on data layer.
Report a "Weather Miss"
A streamlined and consolidated way to report and collect feedback, users are now able to report a "weather miss" directly to Tomorrow.io's Weather Science team.
Simply navigate to the Help Panel in the Platform, take a screenshot, leave a comment and know that your feedback will automatically be sent to the right folks for review.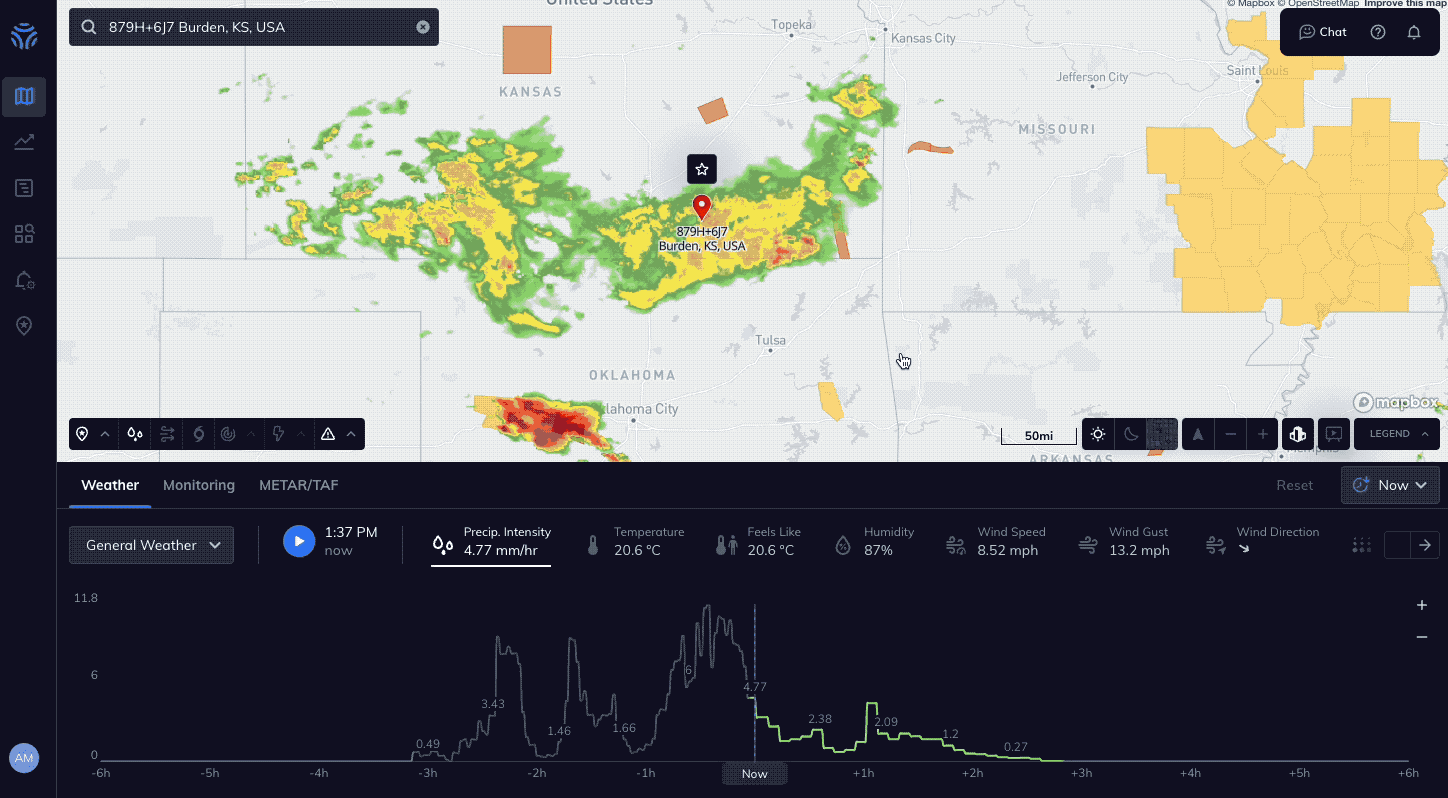 New Maritime Data Layers
We've released new maritime data layers – Sea Currents, Tides and Sea Surface Temperatures (SSTs), all available with global coverage and accessible via the Platform and API.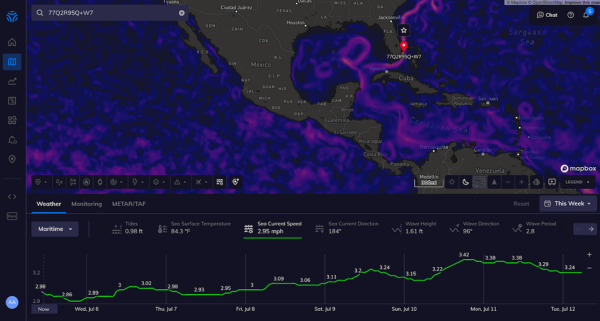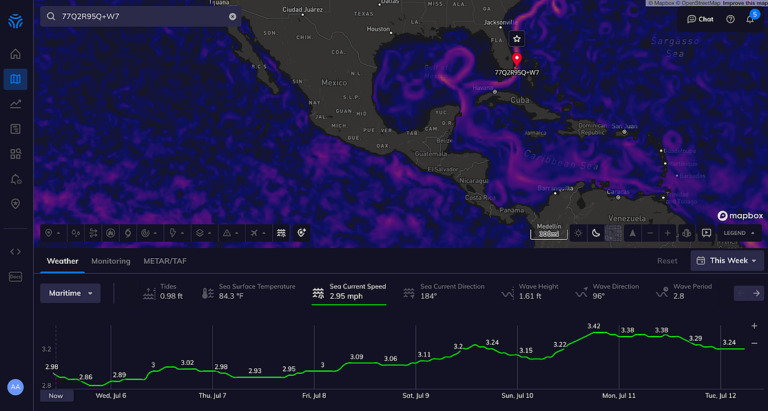 The launch of these new data layers expands on our maritime capabilities (Waves/Swells already offered) and are critically important for maritime navigation and planning, port operations, offshore industrial activities, environmental impact assessments,  etc.
Read more here and reach out to your account team for access to these premium data layers or if you have any questions about this!
New User Role – Editor
To round out our user role offering, we've released a new platform user role: "Editor." The Editor role is able to create new dashboards based on existing locations and insights, invite new users and create alerts based on existing insights. This new role enables customers to align regional operations to organizational protocols established by the system admin.
Status Page
To further transparency, we've launched a new public status page where we publish outages and communicate when our services are unavailable.
Simply go to https://status.tomorrow.io and view scheduled maintenance, outages and other information regarding system performance.
Historical API – 20 Years Expansion
We've extended our historical data from January 2011 to January 2000 which will allow customers to better train their models, conduct statistical research and better manage the impact of weather through retroactive analysis. The historical archive API provides instant access to synchronous programmatic hourly and daily historical weather data for any location for a specific time frame, now up to 20 years in the past!
Want to See These Features for Yourself? Try Tomorrow.io Today