Beat the Weather
Solve any operational challenge with the world's most accurate, and powerful weather intelligence platform.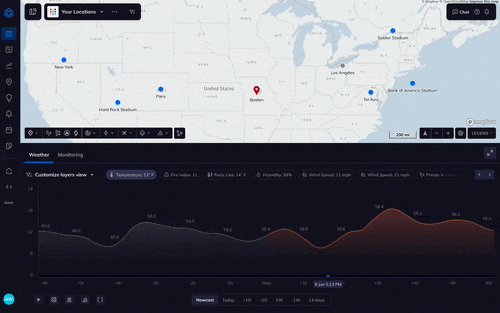 Unlock Next-Level Decision Making with NextGen
Introducing NextGen— the next evolution of our revolutionary weather intelligence platform. With significantly more accurate hyperlocal forecasts, advanced probabilistic modeling, and proprietary satellite data integration, NextGen delivers unmatched capabilities to optimize critical decisions amid complexity and uncertainty. Equip your teams with the predictive power needed to confidently navigate risks and maximize outcomes.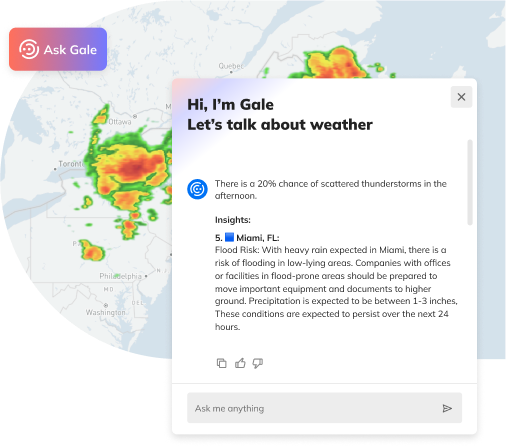 The World's Only Space AI Weather Engine
Unleash the power of our AI engine fueled by the world's first commercially built weather radar satellite. Get vastly superior forecasts from AI-driven models and actionable insights through Gale, the world's first weather and climate-generative AI.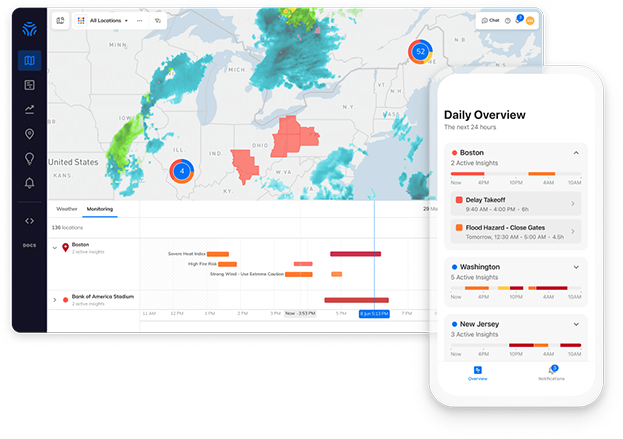 Adapt at Scale from One Central Location
Backed by weather intelligence, Tomorrow.io's Weather and Climate Security Platform empowers teams of all sizes to make the right decisions at the right time with:
Hyperlocal monitoring
Predictive Insights
Automated alerts
Integrate and Adapt with the World's Best Free Weather API
Get fast, reliable, and hyper-accurate weather data with 60+ layers and insights
Learn More about Weather API
Real Time
Integrate cutting-edge, real-time weather data directly into your applications.
Shell
curl --request GET \
        --url 'https://api.tomorrow.io/v4/weather/realtime?location=toronto&apikey=XXX'\
        --header 'accept: application/json'
const options = {method: 'GET',
headers: {accept: 'application/json'}};

fetch('https://api.tomorrow.io/v4/weather/realtime?location=toronto&apikey=XXX, options)
.then(response => response.json())
.then(response => console.log(response))
.catch(err => console.error(err));
const sdk = require('api')('@climacell-docs/v4#3efoz19ldn18lig');

sdk.auth('XXX');
sdk.realtimeWeather({location: 'toronto'})
.then(({ data }) => console.log(data))
.catch(err => console.error(err));
import requests

url = "https://api.tomorrow.io/v4/weather/realtime?location=toronto&apikey=XXX"
headers = {"accept": "application/json"}
response = requests.get(url, headers=headers)

print(response.text)
library(httr)

url <- "https://api.tomorrow.io/v4/weather/realtime"

queryString <- list(
location = "toronto",
apikey = "XXX"
)

response <- VERB("GET", url, query = queryString, content_type("application/octet-stream"), accept("application/json"))

content(response, "text")
OkHttpClient client = new OkHttpClient();

Request request = new Request.Builder()
.url("https://api.tomorrow.io/v4/weather/realtime?location=toronto&apikey=XXX")
.get()
.addHeader("accept", "application/json")
.build();

Response response = client.newCall(request).execute();
package main

import (
    "fmt"
    "net/http"
    "io/ioutil"
)

func main() {
    url := "https://api.tomorrow.io/v4/weather/realtime?location=toronto&apikey=XXX"
    req, _ := http.NewRequest("GET", url, nil)
    req.Header.Add("accept", "application/json")
    res, _ := http.DefaultClient.Do(req)
    defer res.Body.Close()
    body, _ := ioutil.ReadAll(res.Body)
    fmt.Println(res)
    fmt.Println(string(body))
}
{
  "data": {
    "time": "2023-02-14T13:53:00Z",
    "values": {
      "cloudBase": null,
      "cloudCeiling": null,
      "cloudCover": 5,
      "dewPoint": -0.19,
      "freezingRainIntensity": 0,
      "humidity": 100,
      "precipitationProbability": 0,
      "pressureSurfaceLevel": 1005.56,
      "rainIntensity": 0,
      "sleetIntensity": 0,
      "snowIntensity": 0,
      "temperature": 0.31,
      "temperatureApparent": 0.31,
      "uvHealthConcern": 0,
      "uvIndex": 0,
      "visibility": 14.43,
      "weatherCode": 1000,
      "windDirection": 278.31,
      "windGust": 1.19,
      "windSpeed": 1.19
    }
  },
  "location": {
    "lat": 43.653480529785156,
    "lon": -79.3839340209961,
    "name": "Old Toronto, Toronto, Golden Horseshoe, Ontario, Canada",
    "type": "administrative"
  }
}
Customizable Insights for Every Industry
Get The World's Most Advanced Weather Intelligence