Hurricane Fiona is barreling up the East Coast, leaving a path of destruction in its wake.
Since its formation on September 15th, Fiona has caused catastrophic damage across Puerto Rico, the Dominican Republic, and Turks and Caicos, and it's now headed toward the Nova Scotian coast.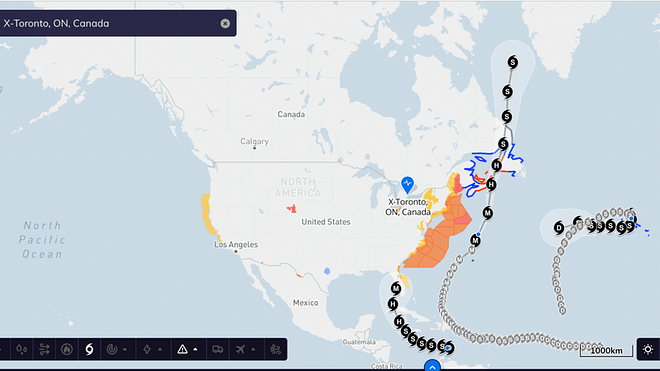 Though it's expected to weaken before making Canadian landfall, it still could be among the strongest storms ever to make landfall that far north. Here's what to expect each day and how you can prepare:
Friday
Fiona is expected to make landfall near Nova Scotia late Friday with gusts as high as 130 mph.

Saturday
Headed into Saturday, Fiona is expected to travel past Newfoundland with force lessening slightly but still incredibly high wind speeds.

Sunday
The storm will continue its path north Sunday hitting the eastern side of Newfoundland and Labrador with wind gusts still above 60 mph

How to Prepare Your Business
With hurricane-force winds, extreme rain, and large storm surges, hurricane conditions impact your operations on a number of levels:
Threatening the safety of your employees and assets

Causing property damage to your business

Destabilizing port operations and travel due to high winds

Increasing the likelihood of power outages from damaged infrastructure
The best way to prepare for any major upcoming storm is by implementing an established emergency plan and investing in tools and infrastructure to make sure you can operate safely and securely. Here's how the most impacted industries can prepare:
Energy & Utilities
 Hurricane Fiona has already left ~950,000 of Puerto Rico's 1.5 million business and residential customers without power. Those in the path this weekend should activate emergency response protocols and be prepared for extensive damage to infrastructure with lengthy outages expected. 
Logistics & Supply Chain
Expect deliveries, transport, and all parts of the supply chain in the area to be shut down entirely along the path for the Hurricane. Alert drivers to take alternate routes or avoid driving altogether. Be sure to also include this in any calculations for expected ETAs and adjust routes to avoid the storm.
Maritime & Ports
Any port locations in the area should be prepared to fully shut down and could sustain extensive damage to facilities from the storm surge.
Without the right technology, your business is forced to react to the impact of these storms rather than proactively monitoring and preparing for their impact. Tomorrow.io's Tropical Cyclones Data Layer allows you to protect your operations against tropical threats/coastal hazards by visualizing hurricane tracks, cones of uncertainty, intensity, and more.
Start Protecting Your Business with Tomorrow.io's Tropical Cyclone Data Layer