We're back with another round of exciting updates and new features to enhance your Tomorrow.io experience! 
Our team has been hard at work over the past couple of months, developing and refining our tools to help you better navigate the ever-changing weather landscape and make more informed decisions.
From groundbreaking partnerships to innovative product enhancements, this blog will cover everything you need to know about the latest developments at Tomorrow.io. 
Read on to learn how these updates can transform the way you approach weather intelligence and climate adaptation for your business or organization. Let's dive into a world of cutting-edge technology designed to empower you in the face of volatile weather conditions.
Spring Updates 2023
Next Generation Unified Precipitation 💧
Our new Unified Precipitation (UP) solution provides more accurate precipitation data from 0-6 hours for high-impact weather events, thanks to a cutting-edge approach supercharged with machine learning and AI.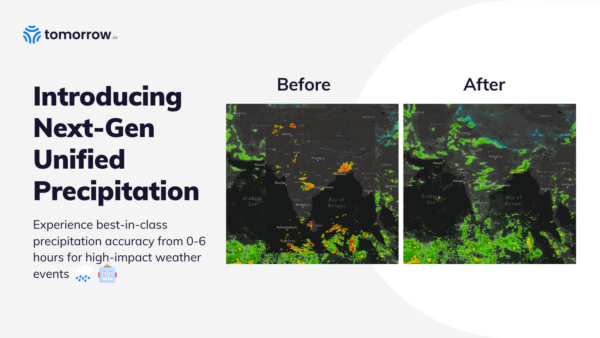 New In-Map Ruler Feature 📏
A new and improved measuring tool allows users to measure the exact distance of an active weather event to their impacted location. 
To use it, simply click on the ruler icon and click on any starting point on the map. Then draw a line to your areas of interest and the platform will calculate and display the measurement for you. 
Platform Insights Side Panel 💭
Our new platform insights side panel introduces easier access to weather insights through an improved side panel.  The new panel highlights weather data for severe weather events along with information on event duration. 
Lightning Notifications Update ⚡️
Experience improved lightning alerts at Tomorrow.io, now available in two new convenient locations on our platform, in addition to  emails and SMS:
Notification List: Effortlessly track and review chronological alerts for seamless monitoring.

Alerts log: View a list of lightning alerts in chronological order
Learn more here.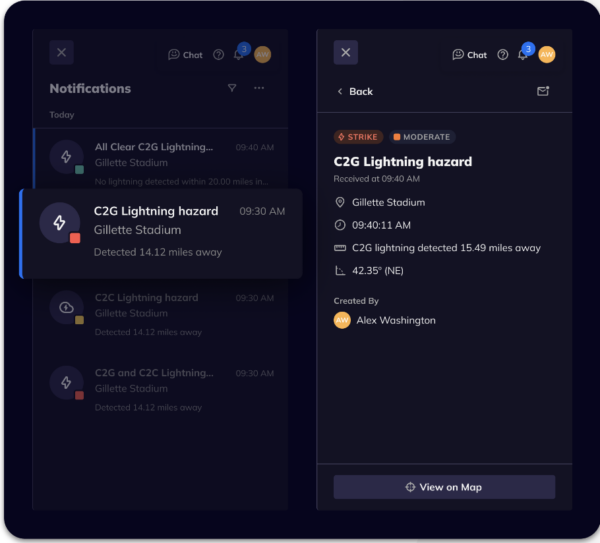 New Graphical Layers 🌡️
You can now turn on new graphical layers in the Tomorrow.io platform. The three new available layers include Surface Fronts, Flight Tracks, and NWS Weather Type. 
Surface Fronts: Available for the Contiguous United States (CONUS) only from 6 hours to 7 days out

Flight Tracks: FAA-approved routes for North Atlantic and US & Western Atlantic Tracks 

NWS Weather Type: New graphical and timeline layers for insights and alerts for dominant weather types 
These layers are especially impactful for industries like aviation, enabling teams to create customized visual reports on top of the map, and enhancing overall situational awareness.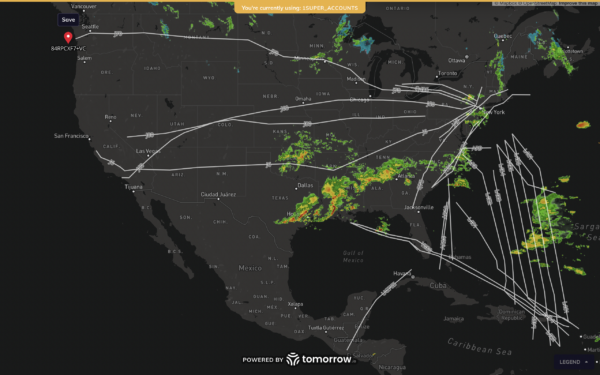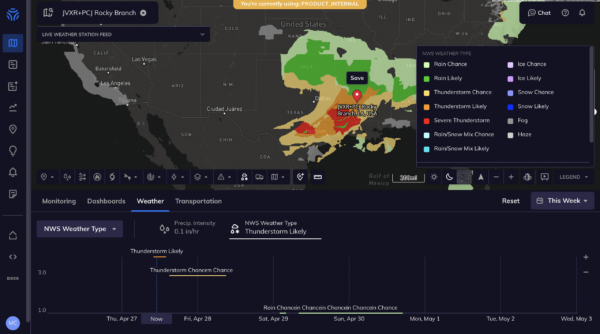 Partnership Updates
Tomorrow.io is excited to continue growing our partnerships. This spring we have partnered with the Motive Marketplace. Motive's Automated Operations Platform combines IoT hardware with AI-powered applications to automate vehicle and equipment tracking, driver safety, compliance, maintenance, spend management, and more.
Together, Tomorrow.io and Motive empower transportation leaders to protect drivers with automated alerts in advance of hazardous weather conditions. 
You can check out our listing on the Motive App Marketplace to learn more.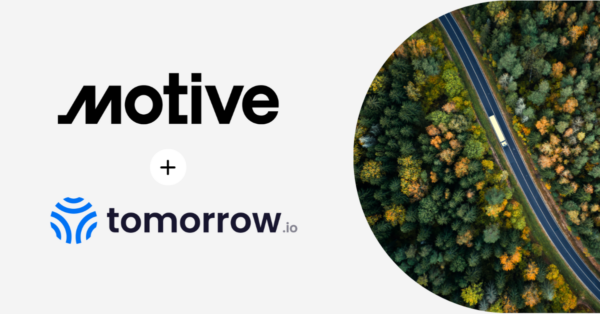 What's Next at Tomorrow.io? 
We're thrilled to showcase the latest enhancements and features at Tomorrow.io, designed to help businesses stay ahead of the ever-changing weather conditions. 
From our upgraded lightning alert system to the new, precise measuring tool, we're committed to providing you with the most accurate and accessible weather information. Stay tuned for more exciting updates and developments as we continue to innovate and improve our platform to empower you in making informed decisions for your safety, efficiency, and overall success. 
Interested in how these features make a difference?
See Weather Intelligence in Action