We're excited to announce the release of lightning notifications on the Tomorrow.io weather and climate security platform. This highly-requested feature allows users to monitor lightning alerts more efficiently and better protect their businesses from weather-related disruptions.
Why Lightning Notifications Matter
Lightning can pose significant risks to businesses in various industries, from aviation to construction and outdoor events. Staying informed of lightning activity and knowing when it's safe to resume operations is crucial to ensuring the safety of employees, customers, and assets. Our enhanced Lightning Notifications feature, along with all-clear countdowns, streamlines the process of monitoring and responding to lightning alerts, helping you mitigate potential risks and maintain smooth operations.
Platform-Based Lightning Notifications
Previously available only via email and/or SMS, users can now access lightning notifications in two convenient locations within the Tomorrow.io platform:
Notification List

: Find the lightning notifications chronologically, allowing you to track and review alerts seamlessly.

Alerts Log

: Access a comprehensive log of all lightning alerts for auditing and retrospective purposes.

All-clear Countdowns

: Monitor lightning all-clear countdowns and perimeters on our interactive map for enhanced situational awareness, reducing latency and keeping you informed in real-time.
All users receiving lightning alerts will have access to these new platform features, making it easier to stay informed and respond quickly to severe weather events.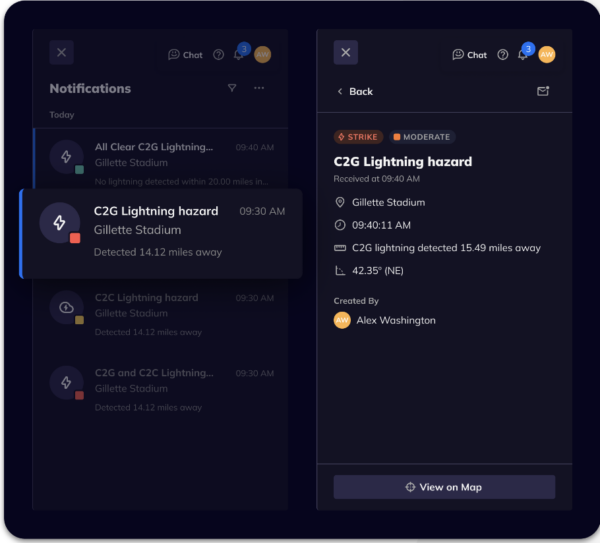 Don't have lightning alerts enabled but would like them? Reach out to your account manager!
Benefits of Lightning Notifications for Businesses
Lightning notifications offer several advantages for businesses, including:
Real-time information

: Receive up-to-the-minute lightning alerts, helping businesses make informed decisions regarding operations, employee safety, and asset protection.

Centralized data access

: Consolidate lightning alerts in one platform, streamlining the process of monitoring and responding to weather events.

Customizable alerts

: Tailor notifications to your specific needs, such as location-based or time-sensitive alerts, ensuring your business receives the most relevant information.
Industry-Specific Use Cases
Lightning Notifications can provide significant value across various industries:
Aviation:

Accurate and timely lightning alerts enable airlines and airport operators to make critical decisions on ground operations, such as moving aircraft to safer areas, evacuating ramps, or adjusting flight schedules to avoid lightning-prone regions.

Trucking:

Fleets can use lightning alerts to proactively plan and adjust routes, ensuring driver safety and preventing costly damage to vehicles and cargo from lightning-related accidents.

Retail:

Retailers with outdoor operations or events can use lightning alerts to rapidly implement safety measures, such as evacuating outdoor spaces, securing inventory, or temporarily closing affected facilities, minimizing disruptions to sales and operations.

Mining:

Mining companies can use lightning alerts to quickly suspend operations in affected areas, protecting workers from potential electrocution hazards and preventing equipment damage caused by lightning-induced electrical surges.

Construction:

Construction companies can leverage lightning alerts to pause work at sites with high lightning activity, protecting workers from electrocution and reducing the risk of damage to structures or equipment due to lightning strikes.
Take advantage of the enhanced weather and climate security Lightning Notifications provides.
See Weather Intelligence