Tomorrow.io launches game-changing tool for transportation leaders: Real-Time Weather Monitoring of all moving assets
America's 3.5 million truck drivers power every part of our daily lives.
From food and goods to building materials and life-saving medical supplies, each Class 8 truck driver logs almost 63,000 miles per year to deliver the critical resources our communities need to thrive.
But despite their essential function, most drivers are still vulnerable and defenseless against a daily threat — the weather.
After all, the weather is an uncontrollable force that can change by the minute, right? Truck drivers are constantly driving through evolving and often unexpected weather conditions that can be dangerous due to not only the event but how other drivers respond.
A sudden severe and localized pop-up storm not only slows traffic and delays delivery but increases a driver's accident risk. Why? Without advanced warning, the driver has no choice but to drive into the storm.
But thanks to the latest innovation in weather tech, the impact of everyday weather conditions is no longer unavoidable.
"The industry is doing a pretty good job of adapting to severe events like hurricanes, tornados and blizzards. Those are easier decisions. But day-to-day operations are the real challenge — you have many daily weather events where there is no solution," said Ayala Rudoy, global vice president and general manager of logistics, transportation and retail at Tomorrow.io, a weather and climate security company innovating weather intelligence solutions for transportation companies. "So we took it upon ourselves to develop something unlike anything else available."
Enter Tomorrow.io's latest release: Real-Time Monitoring of all moving assets. This system arms transportation companies with real-time and relevant weather insights, not just raw data, for their moving assets down to the street level.
Since the ELD mandate went into effect in 2016, nearly every truck is now equipped with a telematics device that sends back important quantitative information to transportation companies about its location, speed and driver's hours of service.
On its own, an ELD does little to offer actionable insight into the weather. But through leveraging integrations with the readily available ELD telematics infrastructure, as well as dashcams, Tomorrow.io enables transportation companies to see real-time weather conditions for each of their assets along their routes.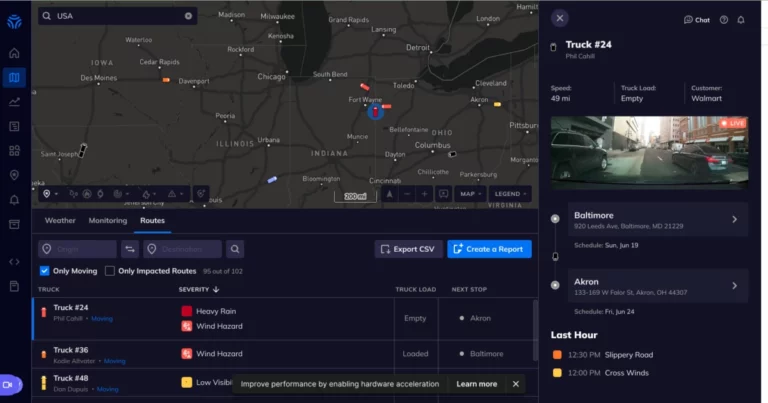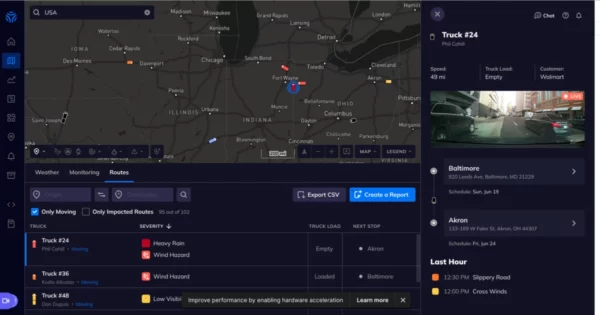 To provide these hyperlocal insights, Tomorrow.io aggregates existing weather prediction models and its own high-resolution prediction model which incorporates millions of virtual sensors for high accuracy.
So what does this mean for transportation companies?
The weather is no longer an excuse for unsafe driving conditions. In a matter of minutes, transportation companies can take charge of their weather safety by integrating readily available technology in their trucks with Tomorrow.io, allowing them to see localized pop-up events, the relevant context for them and the tools to alert drivers to do something about them.
Street-level information when it matters most
Tomorrow.io's latest tool goes beyond just the forecast, taking into account the context of the weather, and each company's unique assets, to determine the most effective action. Beyond large-scale weather events, dispatchers can determine what the conditions are actually like for drivers as they happen, including precipitation intensity, temperature and real feel, humidity, wind speed and wind gusts.
"Tomorrow.io translates the real weather data into meaningful impact and provides the data to notify individuals when it matters the most. We took all of that and matched it with the location of the trucks and where it's headed," Rudoy said.
Dispatchers can see how the weather will affect their specific trucks down to a specific location. Gusty winds, for example, might be a big concern for drivers carrying an empty load because it carries the risk of tipping over but might not matter as much for an 80,000-pound loaded truck.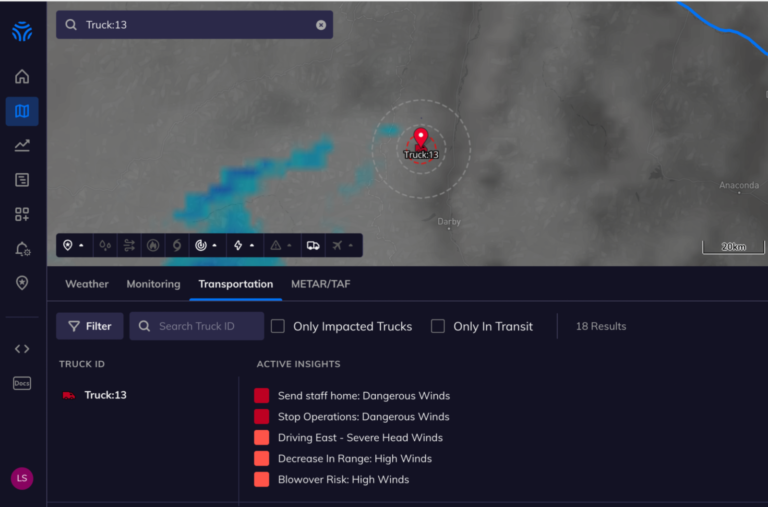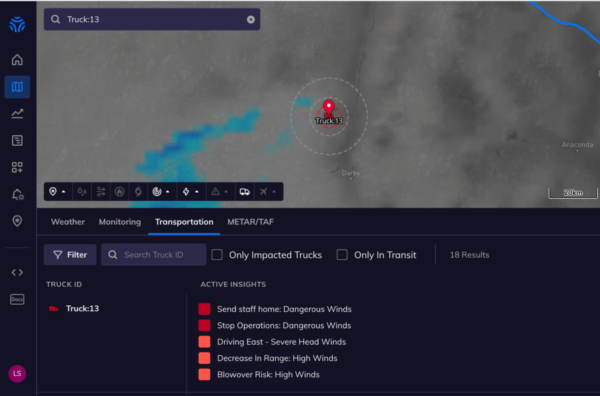 Similarly, getting caught in some light snow in the southern U.S. can be extremely dangerous, but driving through a snowstorm in the Northeast may be no problem due to the varying infrastructure and the speed at which snow and ice are mitigated.
Customized insights for quick action
The vast diversity of the transportation industry means each company has different policies and obligations. Perishable products, live animals and critical medical supplies, for example, all need to get to their destinations as soon as possible. While driver safety is an obvious benefit, Real-Time Monitoring also allows for fewer delays. Transportation companies can create their own customized actions and push alerts to drivers based on the severity of the weather. This allows them to maintain a customized, but standard, weather safety protocol in line with their policies.
Dispatchers, in turn, can let drivers know when to take actions like slowing down, considering pulling over, pulling over immediately or whatever action the company chooses.
"Even for the exact same company with the exact same policy, different people will make different decisions. … It removes the guesswork and disjointed sources to create a single source of truth and governance about what to do when," Rudoy said.
See How Real-Time Monitoring Can Transform Your Operations