In our dynamic world, managing weather risks across your entire network is crucial for maintaining efficient operations and ensuring safety. Tomorrow.io's latest feature, our Counties Risk Map, is here to transform the way businesses and government organizations monitor and respond to weather risks on a network-wide scale. 
What It Is
Available in our platform, teams can now quickly visualize insights for local, real-time data out 4.5 days in advance on weather conditions at the county and state levels, enabling you to make informed decisions, minimize potential disruptions, and stay ahead of the competition at a large scale.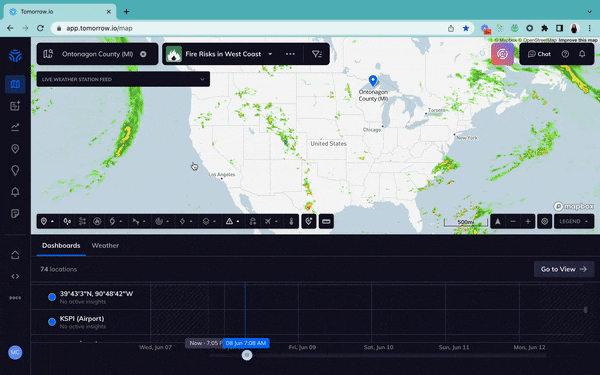 How It Works
Within the Tomorrow.io platform, users can now create subviews for the specific states they want within their network and generate email digest reports based on severe weather alerts.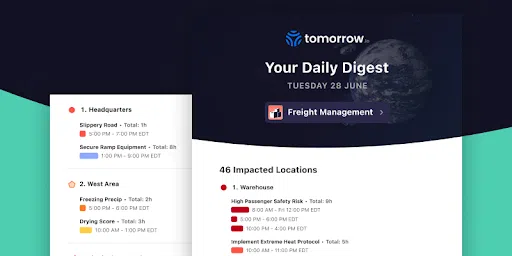 Why Use It
When it's your responsibility to assess weather risk for your assets or your localities, having the most advanced and up-to-date weather data is important. With our County Risk Map, you'll be able to monitor and attach predictive insights to impactful conditions like: 
Extreme Heat Or Cold

Heavy Rain, Snow, Or Hail

Icy Conditions

Strong Wings

Wildfire Smoke Risk

Fog

Flood Risk
Benefits for Retail
Retail teams in need of assessing risk for transporting goods will be able to use County Risk Map to understand where their operations are disrupted. Gone will be the days of unforeseen weather, with Tomorrow.io retail companies can see active weather alerts by county, know exactly where the weather is causing delays, and see dynamic changes in real-time. 
Benefits for Government
Local governments and municipalities who need access to accurate weather information to keep their citizens safe and informed can use Country Risk Map to do just that. By creating daily email digests of current weather information, government organizations can use Tomorrow.io to stay up-to-date on potential hazardous conditions, 
Hear from Tomorrow.io's Solutions Engineer Mckenzie Bowden about how local governments can start using this feature today:
Don't see your industry? Don't panic!
Our platform is customizable for a variety industries, if you have a use case, let's chat!
Weather Intelligence At Your Fingertips
Tomorrow.io's County Risk Map is a game-changing solution designed to help effectively monitor and manage weather risks across entire networks. Whether you're seeking weather hazard alerts for your business or government organization, with Tomorrow.io's weather and climate security platform you can harness the power of AI-backed weather intelligence.