Thanksgiving is right around the corner, which means millions of Americans are gearing up to reunite with loved ones, share in delicious feasts, and partake in heartwarming traditions. This beloved holiday also kicks off one of the busiest travel periods of the year, as people journey across the country by plane, train, and automobile to celebrate with family and friends.
According to AAA estimates, over 55 million people will travel for Thanksgiving this year in the United States. This represents a 2.3% increase compared to 2022 and the third-busiest Thanksgiving travel period since AAA began tracking in 2000. While most travelers will hit the road, air travel is expected to reach its highest level since 2005.
With so many people on the go, weather can play a big role in Thanksgiving travel plans. At Tomorrow.io, our team of expert meteorologists used our AI/ML-backed weather intelligence platform to analyze the forecast and identify potential impacts on travel. Here's what you need to know:
Favorable Early Travel Conditions
For those planning to travel on Saturday and Sunday, November 18-19, conditions look relatively favorable across much of the country. The worst of the crowds and weather impacts are expected later in the week.
Potential Trouble in the Pacific Northwest and Intermountain West
A storm system may bring rain and mountain snow to the Pacific Northwest and Intermountain West. This could cause minor highway travel delays in mountain passes. Widespread thunderstorms are also possible across the southern Plains on Sunday, which could result in some flight delays.
By Monday, light snow is possible in Denver and parts of the Rockies. Rain will continue in the Central Plains and Midwest, with embedded thunderstorms from Louisiana to Mississippi that could slow travelers.
Major East Coast Storm
The most significant potential disruption comes Tuesday-Wednesday as a large storm takes shape over the Ohio and Tennessee Valleys. Heavy rain and gusty winds will spread into the Great Lakes, Southeast, and Mid-Atlantic region, likely causing airline delays in major hubs like New York City, Philadelphia, Baltimore and Boston. Slippery roads are also possible across the Upper Midwest.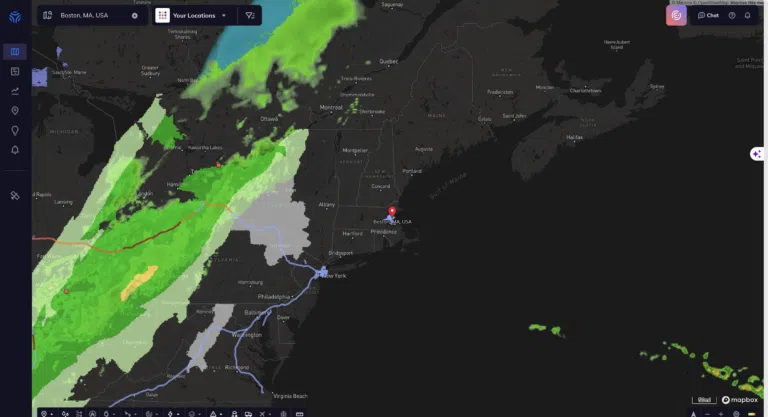 Thunderstorms and Rain in the Central and Southern US
Thunderstorms may occur on Sunday in parts of Oklahoma and Texas as a storm system develops in the warmer and more unstable air. Minor delays to airline travel are possible where thunderstorms occur in central/eastern Oklahoma to north Texas. More widespread rain in the Plains and Ozarks may slow highway travel through Kansas City, St. Louis, and Memphis at times.
Light Snow and Rain in the Rockies and Mid-Mississippi Valley
On Monday, November 20, some light snow and snow showers are possible for the Front Range communities of the Rockies, including Denver. Any disruptions to travel focus mainly on highways through the mountain passes of western Colorado. Only minor impacts to air travel are anticipated. Rain is expected to continue in the Mid-Mississippi Valley with thunderstorms farther south into Louisiana/Arkansas/Mississippi. Minor travel disruptions could occur.
Milder Weather Following Thanksgiving
After Thanksgiving, the volatile weather pattern leading up to the holiday is expected to subside, paving the way for more favorable travel conditions on Black Friday and throughout the weekend. Milder weather is expected in the central and eastern US.


Mitigation Strategies for Different Industries
While the weather outlook provides a general overview of potential impacts, it is essential for businesses and individuals to tailor their mitigation strategies to specific industries and travel plans. Here are some suggestions:
Airlines

: Closely monitor weather forecasts and proactively communicate potential disruptions to passengers. Implement contingency plans for flight cancellations, delays, and rebookings.

Transportation Companies

: Stay informed about road closures and weather-related hazards. Adjust schedules and routes to minimize delays. Provide real-time updates to passengers.

Retailers

: Monitor weather conditions and anticipate changes in customer traffic patterns. Adjust staffing levels and inventory accordingly.

Individuals

: Check weather forecasts regularly and pack accordingly. Be prepared for potential delays and cancellations. Allow extra time for travel and consider alternative routes if necessary.
How Weather Intelligence Can Help
Tomorrow.io's hyperlocal weather forecasts and data-driven insights provide the intelligence you need to anticipate potential impacts and implement effective mitigation strategies. By leveraging our precision weather analytics, individuals and businesses can navigate volatile conditions with greater confidence, make strategic, operational decisions, and ensure smooth travels this Thanksgiving season and beyond.