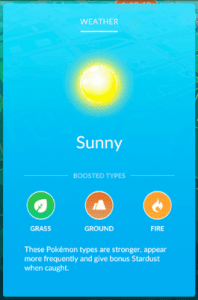 Augmented reality has changed the gaming landscape. Back in 2007, EA Sports was a pioneer in adding the real-time football stadium weather into video games like NCAA 08 Football. According to EA, "From a snowstorm in Boston to a heat wave in Arizona, the exact environment will not only affect the visuals but also alter game dynamics." Today's mobile games use AR and weather APIs to tackle the player's local weather conditions in a bid to increase engagement and player satisfaction.
Zynga's new AR drag-racing game, CSR Racing 2, uses "dynamic weather effects," on Android and iOS, which means realistic road weather conditions for the player's vehicles, including reactive headlight patterns and reflections "based on individual details within the street pavement," according to the developer.
When game developer Niantic introduced a "dynamic weather" system in the wildly popular Pokémon Go, it brought the player's local weather into the mobile game, directly influencing gameplay, like which types of Pokémon the player will encounter – creatures are programmed with different weather preferences, changing the chances of catching them in fog, rain, snow, or sunshine.
The effect of weather on players has been documented in studies, such as the one presented at the 2012 International Conference on Entertainment Computing,  which found that "the weather contributed positively to the enjoyment of players and to their feeling of a connection between the real world and the game." The same study asked if players would prefer using real weather data or randomly generated weather data; 86% of the users preferred real weather data and only 14% would opt for randomly generated weather data.

With weather APIs being replaced by MicroWeather APIs, game developers have an opportunity to win more engaged players with highly relevant and accurate dynamic weather. A good MicroWeather API will also include the ability to alert players outdoors if the weather becomes dangerous. Plus, with AR becoming easily accessible to application developers with Apple's new ARKit and Google's ARCore, more games will need to seamlessly blend real and virtual aspects of the player's environment. Developers can integrate MicroWeather around the player for improved engagement and fun in games from fantasy sports, fitness, or outdoor adventure.