By Dan Dupuis, Director of Global Sports & Outdoor Sales, Tomorrow.io
Being part of sports history sounds like a dream come true for any fan or participant…until it isn't. On September 9, 2018 the Miami Dolphins outlasted multiple lightning delays and the Tennessee Titans, in a game that lasted seven hours and eight minutes – a dubious NFL record. The first lightning delay occurred with 1:11 left in the second quarter. It lasted 1 hour, 57 minutes. The second lightning delay occurred with 6:47 left in the third quarter. It lasted 2 hours, 2 minutes.
Dealing with the risk of bad weather like a lightning storm is the type of thing that can cause you to lose sleep at night. This is because the price of not effectively planning around the elements at an outdoor venue is steep. Not being adequately prepared for the elements leads to unnecessary cancellations or delays, inefficient operations, and – above all – endangers fans and participants.
That's why if it's about to get nasty outside, you need to know about it in advance. Not having enough lead time to set up a parameter around your venue, notify people who are on their way, and take all other necessary precautions to make sure that everyone stays safe is a recipe for disaster. But if the weather is so important, why do venues continue to struggle to effectively prepare for the elements?
A major reason that outdoor venues are at the mercy of Mother Nature is that they rely almost exclusively on traditional weather forecasts. These tools generate vague and infrequently updated data that don't offer any real insights about how specific weather conditions such as lightning strikes, floods, precipitation, and strong winds are likely to impact your operations at any given point in time. Without accurate information and actionable insights, the weather becomes a wildcard that makes it extremely difficult for you and your team to make the right calls.
To fill these serious gaps in weather coverage, software such as Tomorrow.io has recently been developed to provide solutions to problems caused by inaccurate weather information and non-actionable insights. For outdoor venues, Tomorrow.io provides the world's highest resolution weather model that you can run anwyere, anytime. What makes Tomorrow.io's MicroWeather software microscale, global, and customizable is that it's based on unique weather information sources from the entire connected world – wireless signals, connected vehicles, and street cameras – with AI-driven models. Meanwhile, the weather data that you've had to depend on until now is little more than repackaged governmental weather data that's aimed at the general public, not specific outdoor venues.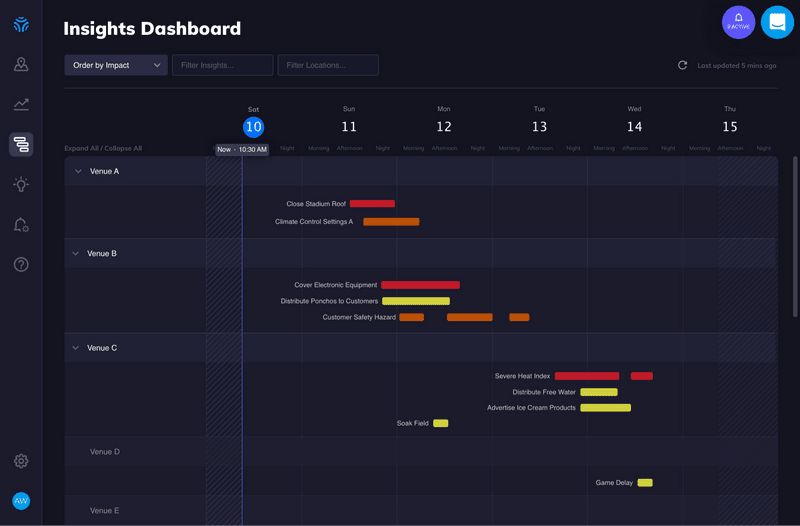 With this kind of enhanced weather information about incoming inclement weather you're in the driver's seat. You'll now have enough time to schedule specialized crews to prepare your venue for any relevant weather conditions. And if it's going to turn nasty in a hurry, Tomorrow.io makes it possible for you to take control – quickly alert crews, teams, and performers, who can then change their practice and rehearsal schedules as needed. 
Being able to get venue-specific alerts about the exact direction and timing of a lightning storm and other weather parameters also means that you'll be in a much better position to ensure safety without having to take unnecessarily large windows of caution.
With Tomorrow.io on your team, frustrating delays and cancellations at your venue can be sent packing…permanently.
Learn more about how hyper-accurate weather data is removing the uncertainty surrounding outdoor events