Airport snow removal is both a high-cost and a high-stakes operation; to adhere to guidelines, aircraft must be adequately de-iced and snow removal mitigated correctly, or the overall safety of flight and operations is significantly reduced. The cost of airport snow removal is very high: major international hub airports operate hundreds of pieces of machinery, using thousands of gallons of fuel, and spray several thousands of gallons of anti-ice and de-icing fluids—all the while managing and employing hundreds of seasonal workers.
With the right technology, these high costs can be reduced through proactive risk mitigation.  Here's how weather intelligence can reduce your overall snow removal costs by utilizing weather intelligence and automated decision-making.
The Cost of Snow Removal
Snow removal is one of the most costly airport operations. A comprehensive study on the cost of airport snow removal was conducted in 2012, and the numbers are staggering. 
At the time, Philadelphia International employed about 180 snow removal employees. During any storm event, snow removal equipment was in continuous operation for eleven to twenty-four hours, with equipment costs ranging from $10,000 to nearly $75,000 in a twenty-four-hour period. 
De-icing costs are also a huge economic factor. In the same span of storms sampled, de-icing costs ranged from about $7,000 to $43,500. 
The cost is enormous when you spread these figures out across an entire winter season. But beyond the cost of equipment and services, personnel are the highest cost asset in the snow removal process. 
The Snow Removal Process
A snow and ice control plan is mandatory at all air-carrying airports subject to winter weather, which is part of the Part 139 certification process. 
The process is well defined and laid out by the FAA. There are specific, measurable time targets that airport operators must meet depending on the annual enplanements. They go as far as defining the required airport snow and ice control equipment and strategies to employ. 
However, they do not indicate the best methods for predicting when and how many auxiliary crews should be called up for snow removal. In addition, they don't indicate when de-icing fluid will need to be pulled from bulk storage, put in trucks, and warmed.     
Typically, once a winter storm threat is identified, snow removal equipment is fueled up and prepared. Seasonal staff is brought in on standby. De-icing trucks are filled up and plugged in to keep the solution warm. This usual process is built around decades of experience based on a highly generalized threat assessment. But as we have seen, snowfall and other winter precipitation accumulation can vary widely over the space of just a few miles. 
How Tomorrow.io Can Help
The processes used to forecast snow removal have evolved little over the years, but technology has—that's where weather intelligence can help. 
Instead of the broad, "shotgun blast" approach that airport operators have been working with in the past, Tomorrow.io provides pinpoint solutions with detailed timeframes and intensities. 
How much of a game-changer would it be to know that the expected snowfall rate will be between 0.7 inches and 1.5 inches, from 1300 through 1640? And that the snowfall becomes more intense through this timeframe, with some overlap, but then have a two-hour gap between intense snowfall later on? 
These types of actionable insights are what a solution like Tomorrow.io can provide. With this pinpoint precision on both time and intensity, aviation professionals can schedule crews accordingly. 
How?
With Tomorrow.io's hour-by-hour monitoring,  teams can easily calculate snow accumulation and pair that number with how much a given piece of equipment removes in a given timeframe. The operations department can then schedule crews accordingly and keep auxiliary teams on-call instead of on-site. As a result, only the necessary equipment and crews will be in operation instead of idling the whole fleet.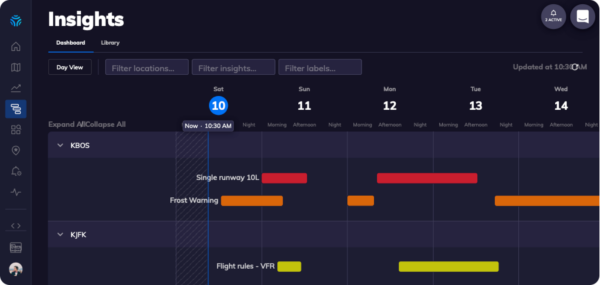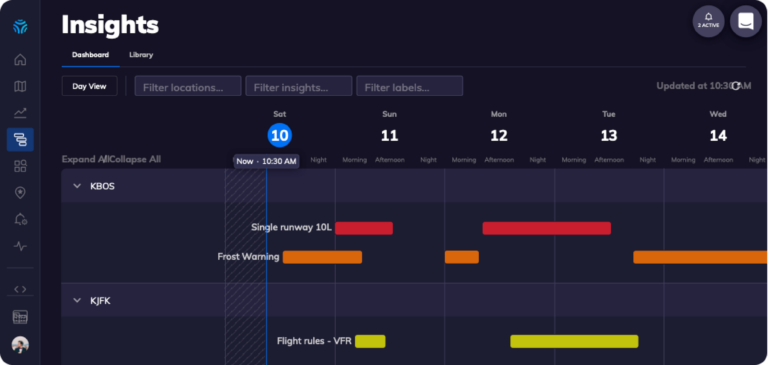 For airline operations, a much clearer picture of slot availability is painted. This allows airlines to get ahead of the curve in cancellations and, ultimately, operate proactively instead of reactively. 
It is estimated that winter weather results in 60,000 flight cancellations and about $3 billion annually. Some of this is unavoidable, but not all. With Tomorrow.io, your team can mitigate the risk of cancellations and reduce the waste from unnecessary airport snow removal operations like excess staff, and aircraft de-icing. 
See How Tomorrow.io Can Empower Your Aviation Organization to Optimize Winter Operations