Nearly every sector of the economy relies on the trucking industry to transport their goods and ensure they get to their destination in a reliable and efficient manner. But those shipments don't always go as planned. Even a 24-hour delay can have serious consequences for critical supplies such as medicine, food, construction materials, electrical assets, and more.
Yet despite the essential nature of the trucking industry, it's still at the mercy of changing –– and extreme –– weather conditions.  In 2021 alone, the U.S. saw the Texas Freeze, Hurricane Ida and deadly December tornadoes rip across the US.  
Jason Jay, director of the Sustainability initiative at the MIT Sloan School of Management, says that extreme weather is "Not the next big supply chain crisis. It's the next big supply chain crises, plural." But it's not just extreme weather events that greatly impact the trucking and logistics industry—it's everyday things like fog, low visibility, wind, humidity, rain, snow, hail, etc.

We've shared weather's impact on the logistics industry in prior blog posts, but as a recap:
Weather is responsible for almost 25% of all truck delays.

Weather costs the trucking industry up to $3.5 billion a year.

Snow and ice are responsible for more than 50% of all weather-related delays.

The cost of delays in severe situations such as hurricanes or blizzards due to lost capacity can be more than $100 million a day.
And still, most logistics companies don't have a proper plan to proactively manage weather events, largely because of the misconception that they're hard to truly plan for and protect against. Even moreso, though, is that existing processes don't work, especially in an industry with a lot of (constantly) moving parts. 
According to a 2018 IBM Study, 67% of transportation and executives are uncertain how weather data creates value, 58% have difficulty integrating weather data into existing operational processes, and 56% are uncertain how weather data impacts decision-making.
The Status Quo: How Companies Try to Manage Weather Today and Why It Isn't Working
Oftentimes, there are two main ways logistics companies look to plan around weather data in order to make scheduling decisions, update routes/delivery times, and more:
Local/regional operators manually looking up weather data daily using regional weather information, amounting to thousands of hours of daily lookups. 

Connecting a weather API to a route management service, transportation management system or other solutions. 
But the challenges with either alternative add up drastically. These are: 
Accuracy challenges due to low resolution and limited coverage. It's easy to miss out on ground-level information for a specific location, which then has a direct impact on key link or route of the overall network along with insight into how conditions may range along a route. Further, weather information crucial to logistics operations is often missing, including wind, cross-wind, wind direction, precipitation accumulation rates and more. 
Inefficient, non-scalable and non-centralized operations. Logistics operators are left to make manual decisions from generic information since raw data doesn't translate into timely insights and recommended actions. Even if the weather provider does provide alerts, it's usually sent to a general operating center which leads to alert overload – with far too many alerts to effectively distinguish where, when and who should take action. 
Inaccurate decisioning and inconsistent safety and protective measures as a result of manual processing. Trucking and logistics operators aren't meteorologists, and decisioning off of raw weather data alone leaves tremendous room for error, including false positives (stopping a haul because weather seemed worse than actually ended up being), and false negatives (driving in unexpected hazardous conditions or experiencing preventable traffic delays). 
In summary, the status quo leaves logistics operations without a solid understanding of exactly what's coming, how severe it will be, and what's really needed to do to prepare. 
Weather Intelligence – Your Opportunity to Stop Being Reactive
Weather intelligence enables trucking and logistics companies to operationalize weather data at scale, effectively mitigating key disruptions and inefficiencies through proactive measures from a single source of truth. Instead of simply providing a forecast, weather intelligence offers you real-time recommendations on what to do to ensure you make the best possible decision at the right time. It provides the insights you need to know about before they happen, so your business can adjust and adapt to the changing conditions.

Let's take a look at exactly how this works. 
Hyperlocal weather forecasts on a turn-by-turn basis with "full-network monitoring" to manage the massive scale of complex logistics networks. This means you can automatically identify risk for every route and along every haul while understanding how weather changes throughout the journey. This allows you and your team to make appropriate decisions to avoid inclement weather and minimize the chance of weather-related delays ahead of time (up to five days in advance).
This includes the ability to foresee which road will be closed due to snow, floods, heavy rain, or heavy winds ahead of time and make decisions to push deliveries as soon as possible, book third party or extra shifts.  In turn, you can better plan shifts for drivers and crew and communicate with drivers and customers about delays and rescheduling.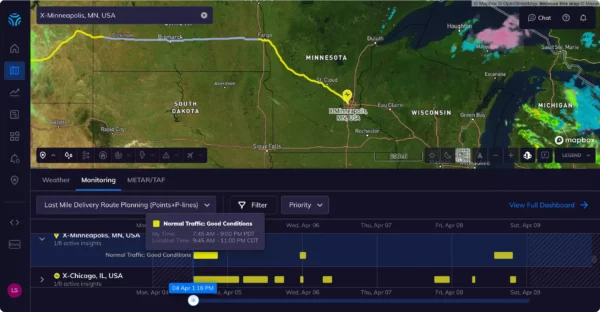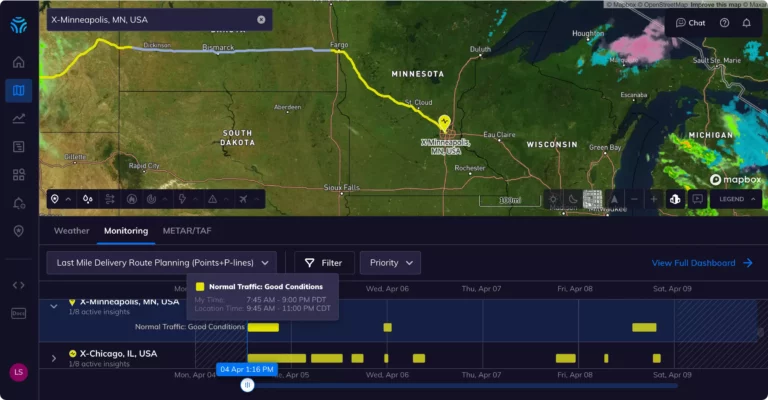 Dynamic alerts provide real-time notifications to drivers, crew, and operators. Even better, these are only sent at the right time, to the right people and not left to the receiver's interpretation.  
Automated alerting allows operators to communicate changes to drivers and dispatchers in real-time including notifications to re-route or take a break, with the ability for the recipient to acknowledge the alert or leave a comment.  These alerts are like built-in-action plans that streamline both decision-making and actions taken, leaving little room for error. 
Monitoring weather forecasts and receiving alerts for weather events will only get you so far. Having access to weather data, without any way of knowing how it's influencing the road, the truck, and your cargo, will not provide enough insight to support drivers and shipping partners. 
You have to decide what to do with weather data and which actions to take based on relevant parameters in order to make a measurable impact on your operations. You need to see the overall picture to understand what action you should take, which can be far more complex than rerouting or halting operations.  Tomorrow.io's weather and climate security platform helps improve operational efficiency, reduce safety concerns, reduce unnecessary costs, and take advantage of new revenue opportunities. 
See How Tomorrow.io Can Reduce Inefficiencies For Your Logistics Organization