Explore the World's Leading Enterprise-Grade Weather API
See why developers and businesses rely on the Tomorrow.io Weather API for fast, reliable, and hyper-accurate weather data with the most cutting-edge interfaces
See why developers and businesses rely on the Tomorrow.io Weather API for fast, reliable, and hyper-accurate weather data with the most cutting-edge interfaces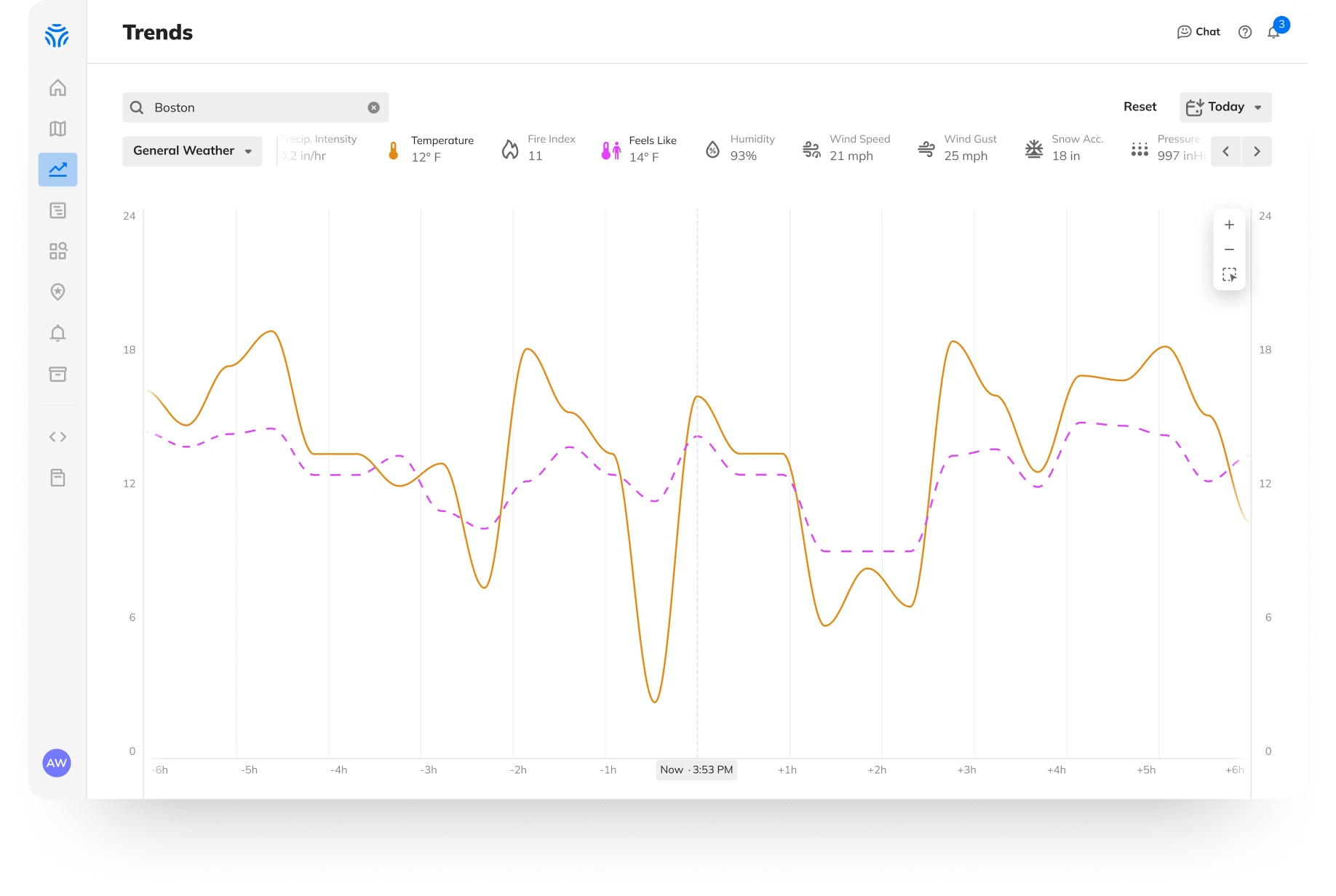 Tomorrow.io's weather API delivers the fast, reliable, and hyper-accurate weather data you need, with the flexibility to integrate this data source with any application, system, or program.
From temperature and precipitation to cloud cover, wind speed, and more, businesses across all industries use weather data from Tomorrow.io's weather API to make decisions in their day-to-day business operations.
With versatile functionality and scope, blazing-fast responsiveness, and the everyday reliability developers need, our weather API offers ease of implementation to get started quickly, along with a host of cutting-edge and unique features that deliver not just weather data and forecasts but true weather intelligence. Sign up to experience our weather API for yourself today!
Learn more about the Tomorrow.io Weather API's enterprise-grade capabilities:
Learn more about the Tomorrow.io Weather API's enterprise-grade capabilities:
Integrate, Automate, and Adapt
80+ Data Layers with Global Coverage
Rich library of weather parameters to cover any condition in any location
Go beyond the forecast with one endpoint
Comprehensive documentation with access to any of our endpoints to get started experimenting - immediately!
Use webhooks to send dynamic triggered alerts
Models driven by use cases
Hyper-Local & High Resolution
Complete Weather Data API Coverage
Get years of historical weather data, request real-time weather information, or make use of accurate weather forecasts.
Flexible Plans Built to Scale as You Grow
For individuals or teams just getting started
For teams and companies that need to manage work across initiatives.
Enterprise features include:
Get Up and Running Quickly in Any Industry
Weather API Documentation
Enterprise Use Case Examples
Ready to make smart weather decisions?