Case Study
MicroWeather. Micro Decisions. Macro Impact
About
Waycare, a cloud-based software company, is shaping the future of mobility by enabling municipalities to capitalize on the enormous amount of data coming from various sources to improve traffic safety and proactively manage the city's roads. Waycare's platform allows cities to take full control of their roads by harnessing in-vehicle information, localized weather data, municipal traffic data, and other data sources for predictive insights and proactive traffic management optimization.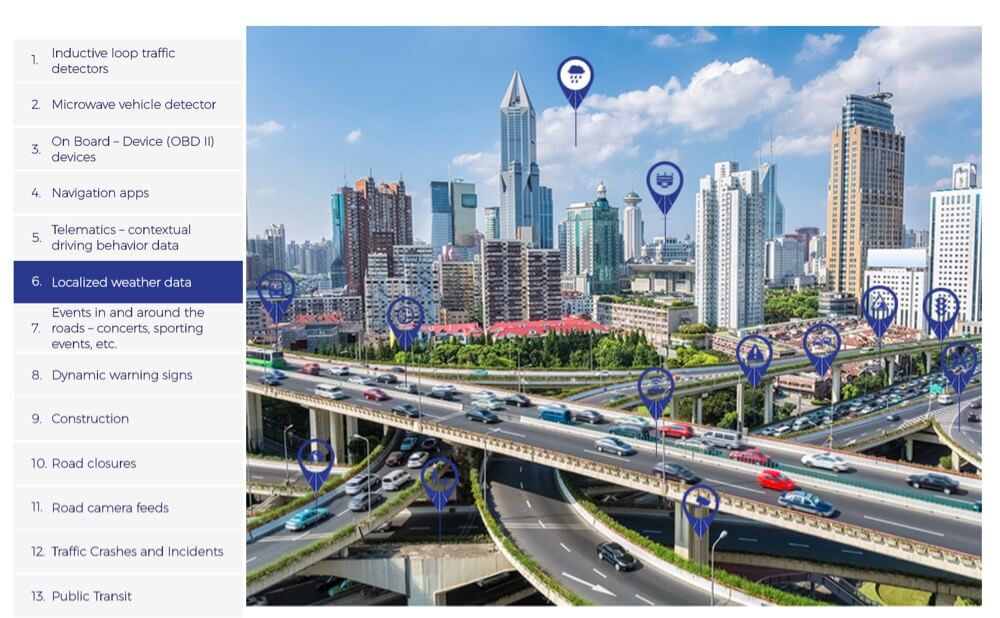 Waycare's input data sources
Challenge
Weather plays a major role in Waycare's ability to predict dangerous road conditions and optimize traffic management. In particular, temperature, precipitation type/intensity, ice, wind, and visibility forecasts assist in reducing crashes and traffic-related delays. Additionally, Waycare's goal is to enhance communication regarding relevant weather insights between the different municipal and government agencies and partners. However, traditional weather companies do not provide the accurate short-term predictions required to relay weather patterns in real time, instead repackaging the same government data and models.
Solution
Tomorrow.io sees the world differently and turns everything around us — from windshield wipers to cellular towers — into virtual weather sensors feeding proprietary weather models. Tomorrow.io produces actionable, minute-by-minute, street-by-street forecasting that provides Waycare with weather data that is compatible with their system. Additionally, Tomorrow.io's hyperlocal forecasts provide Waycare with the data needed for their AI models to automatically learn which weather parameters affect specific roads more than others.
Waycare uses Tomorrow.io's real-time and high-temporal resolution weather data to quickly relay warnings on potentially hazardous road conditions that may affect traffic, operations, and crew deployment to agencies and partners, enabling them to communicate using the same consistent data.
How Waycare Uses Our Weather Insights
Improve prevention of crashes and driver behavior
Leveraging Tomorrow.io's proprietary weather data, Waycare is able to alert traffic management centers and first-responders in real time, allowing them to take action and accurately place control signs/vehicles in effective areas to warn drivers of upcoming poor road conditions.
Las Vegas, for example, reduced the number of primary crashes by 17 percent along Interstate 15. Additionally, according to the RTC of Southern Nevada, 91% of drivers reduced their speed below 65 mph in areas where preventative measures were deployed.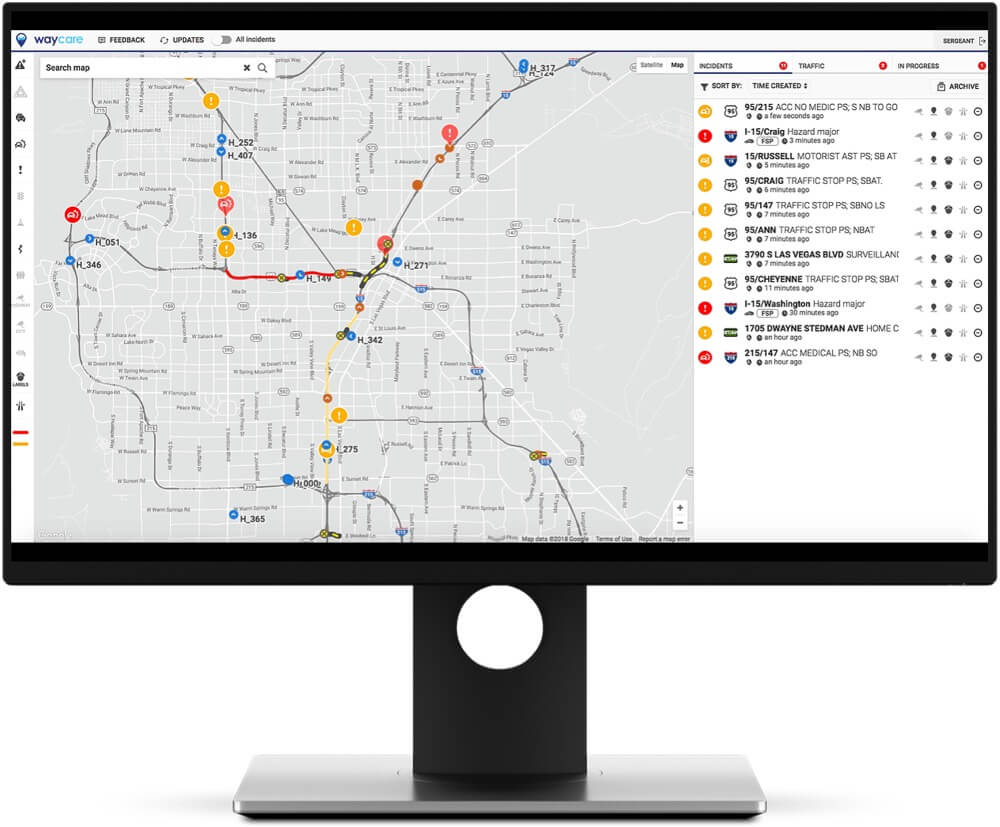 Waycare's transportation management platform for traffic operators offers AI-driven incident identification, dynamic congestion and travel analysis, and predictive analytics to identify near-term dangerous roads.
Traffic management and reduced travel time
Tomorrow.io's unique street-by-street forecasts assist Waycare in improving the flow of traffic by providing weather data that accurately recommends the best mode of transportation and predicts areas of heavy congestion.
Accurately deploy emergency crews in the right areas
Utilizing Tomorrow.io's location-specific and high-resolution weather forecasts, Waycare provides cities with actionable information on areas most affected by events such as flooding and wildfires, enabling them to prepare for emergencies more effectively.
Tomorrow.io's unique weather data allows Waycare to provide municipalities with the safest and quickest evacuation routes in emergency situations.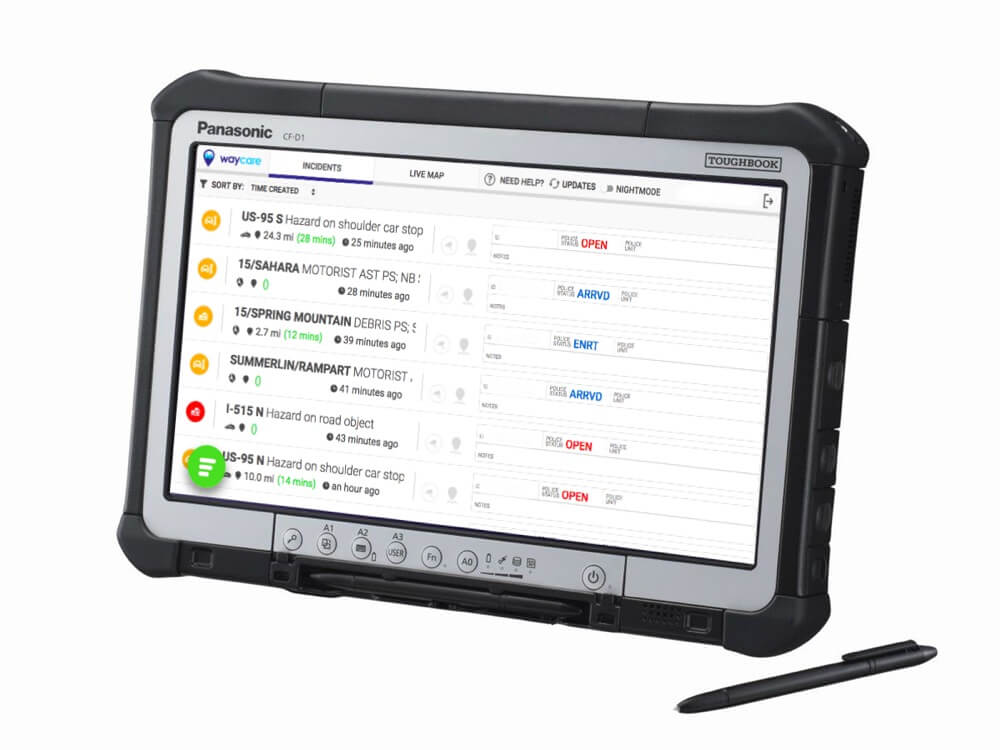 Waycare's on-board proactive traffic safety and incident response solution for law enforcement agencies based on automated AI-driven incident identification
Optimize asset maintenance operations
Consistent street-by-street weather data assists in anticipating areas that need the most road maintenance (potholes/ramps/barriers) and areas that need the most plowing by accurately predicting variations in temperature, precipitation, wind, etc.
"We've explored other sources of weather data, and the level, frequency, and quality of the Tomorrow.io data is superior and beneficial for our needs. Tomorrow.io not only compliments the information we already get from the city but enriches our data sets by providing us with tools to deliver even more accurate crash predictions, warnings, and other traffic insights."
Paul-Matthew Zamsky, Head of Strategic Partnership, Waycare
Talk to our Weather Experts about Your Business
You might also find this interesting
I've personally witnessed Tomorrow.io pick up ground-level weather systems that no one else could observe. Since I've put the Tomorrow.io tool in the hands of our managers, I get non-stop requests from leaders who want access…
Read More ›
Since we started using Tomorrow.io, we have had a much better ability to predict the start and end time of each storm. I have a tablet on the dashboard of my truck that I keep on at all times showing HyperCast…
Read More ›
If lightning is going to touch down on the property, we need to know about the threat in advance – we need to get everyone to sheltered areas so that they are protected from the elements…
Read More ›