On Wednesday, May 20th, Cyclone Amphan made landfall in West Bengal, India — becoming the strongest storm ever recorded in the Bay of Bengal. Initial warnings from officials cited more than 300,000 people were in immediate danger from flooding and storm surges, triggering mass evacuations.
IndiGrid, one of the largest electric utility companies in India, was able to focus and prepare in advance for the cyclone impact by using Tomorrow.io's predictive weather intelligence engine to avoid major disruption, damages, and ensure customers had power. IndiGrid cares deeply about the well being of the people of India and prioritizes their well being above all else, which is why the team is constantly investing in innovation and technology to offer the best possible service available.
How it happened
By partnering with Tomorrow.io and using the powerful Weather API integration and Insights Dashboard, the customer was able to benefit from weather intelligence both in advance and in real-time.
Two days before the cyclone arrived, Tomorrow.io showed the customer across their 400 locations the expected time, duration, intensity, location, and impact of the storm giving them plenty of time to prepare
On the day of the cyclone, Tomorrow.io confirmed 10+ hours in advance the 2 locations that were at most risk of damage allowing the customer to focus and preposition crew members at those locations with a plan already in place
During the cyclone, the customer used Tomorrow.io's HyperCast dashboard to stay in control and make decisions with confidence at the right times, including when the storm would be over so teams could immediately restore power
Focus on innovation p
rovides a competitive advantage

The energy company experienced a number of advantages by using Tomorrow.io during Cyclone Amphan. These included:
Impact warning 2 days in advance of the cyclone
10+ hours of advanced warning on the day of the cyclone
More time to prepare in advance of the storm
Ability to focus on the 2 at-risk locations out of 400+ 
Visibility into any towers are at risk of high wind gusts
Pre-position crews to ensure safety
Know when the storm will end to respond ASAP
Document weather data for force majeure insurance
Give customers the best possible service and experience
Prepare in advance and respond faster
Here's how Satish Talmale, the Chief Operating Officer for IndiGrid reacted after having Tomorrow.io during Cyclone Amphan:
"An extended power outage for our stakeholders during the COVID-19 lockdown would be devastating. Without Tomorrow.io, we would have been waiting and reacting to bad news, but instead we knew exactly what was going on and what to expect the whole time. We knew which locations and power types to focus on so we could prepare, mobilise, and ensure power for our valued stakeholder." – Satish Talmale, Chief Operating Officer at IndiGrid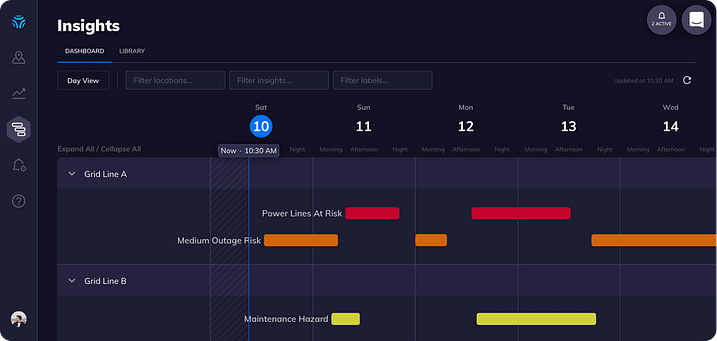 Learn more about how Tomorrow.io can help energy and utilities company take control of predictive weather intelligence to improve operations, save millions in costs, and minimize safety risks.