Goods come in, and goods come out. But at a dark warehouse, also known as a "ghost warehouse", only a limited staff works on-site, if at all. Whether you're operating in retail, ecommerce, or grocery and restaurants, ghost kitchens and dark warehouses offer a lights-off automated approach that streamlines production.
Partially or fully automated warehouses can decrease costs and warehouse space, working around the clock to move goods from Point A to Point B. 
On-demand and cutting-edge shipping companies have already started investing in automated storage and retrieval systems, high-speed conveyor belts, driverless vehicles, and robot pickers. Retail giant Amazon uses over 350,000 robots across the globe, for example, a 75% jump from 2019. 
The idea of a completely automated warehouse no longer feels like science fiction — something that will enter the mainstream in less than 10 years.
But dark warehouses have a hidden cost that you might be overlooking: the weather.
How Weather Impacts Dark Warehouses
True ghost warehouses may not have any staff on-site, or have employees checking status only if there's an issue. But even in an automated facility, you still have to deal with goods coming in and out on trucks, trains, air, or boats as part of overall supply chain management — all of which can be impacted by daily weather events like:
Strong winds

, which can destabilize containers or shut down port or air operations entirely

Rain

, which can create hazardous driving conditions or cause delays

Fog

, which decreases visibility for transportation and ground crews

Snow and ice

, which can warp train tracks, create deicing delays for airplanes or block roads
Weather events like these create delays that can backup operations in warehouses if not managed correctly, either shutting down certain processes or re-programming machinery for different weather protocols.
Luckily, a fully automated warehouse doesn't have to worry about employee safety in the same way that other warehouses need to when it comes to extreme weather — with no employees to evacuate or commute, there's a much lower risk for your team. However, depending on your warehouse location, you do need to worry about major events like flooding, tornadoes, wildfires, and hurricanes, which cause billions of dollars in damage to warehouses every year.
But major, once-in-a-season storms are much less likely to cause problems than daily weather every employee — robotic or not — has to contend with. While eliminating or reducing human labor can provide cost savings and increase productivity, your equipment and assets aren't immune to the weather. In fact, certain weather conditions may be more challenging for machinery, such as:
Precipitation,

which may slow down, stop, or cause machinery to be inoperable depending on the sensitivity and outdoor exposure

Heat

, which can change the way robots

bend and move

, making it difficult for them to grasp objects 

Cold

, which can warp or cause materials to become brittle, or make oil-based machinery or lubricants difficult to function

Thunderstorms and lightning,

which can short-circuit equipment and damage sensitive machinery
Manage Dark Warehouses More Effectively with Weather Intelligence
Interconnected supply chains require a holistic approach that encompasses all warehouse locations, assets, and intermodal points across air, sea, and land. With access to historic, real-time, and predictive weather intelligence, you can make your warehouse more productive and predictable, so you can better meet demand expectations and deadlines. 
Weather intelligence provides better site management and operations with visibility into the weather. With Tomorrow.io, you can more easily track and manage upcoming weather events, create a set of AI-informed protocols based on weather conditions at the warehouse, such as closing doors or powering down during storms.
"As an operator, if something impacts safety, efficiency, or cargo velocity, I want to know about it. Tomorrow.io is something that can protect people, facilities, equipment, cargo, and in my 35-year career, that's what matters most." – Bill Hamlin, ITS ConGlobal
Tomorrow.io's insights dashboard provides managers a forecasted drill-down view of operations days in advance, while our "Monitors on the Map" enhancement allows users the ability to see how the weather is currently impacting the routes and target warehouses in real-time, so you'll know exactly what conditions look like on the ground — even if no staff members are on-site.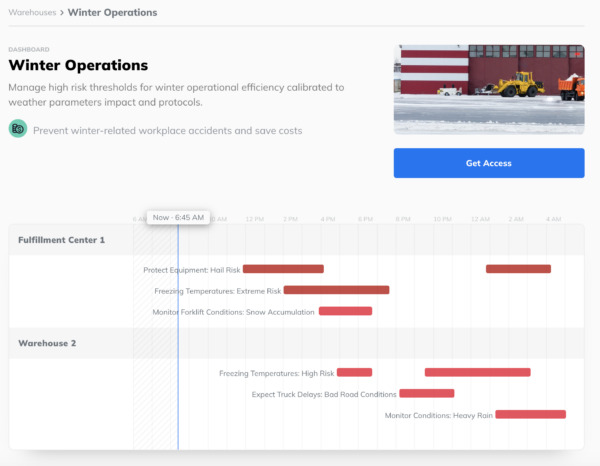 With Tomorrow.io, dark warehouses don't need to stay dark about the weather. Whether you're monitoring multiple warehouses at once or just looking to ensure your warehouse equipment stays protected and productive regardless of the weather, Tomorrow.io's granular insights provide you with an action plan to maximize output and reduce waste all while protecting valuable assets, so you can make quick decisions with confidence.