The Northeastern U.S. is no stranger to winter weather. Each year, states like Massachusetts receive the brunt of heavy snow, ice accumulation, and freezing temperatures. And 2022 was no exception—since January, the greater Boston area has been pummeled by four major winter storms, including one that dropped a record-setting 23.6 inches in a single day.
From staffing and snow removal to maintenance and asset management, winter conditions like these can be costly events for municipalities. And no one knows that better than Pat Hill, Commissioner of Public Works for the City of Brockton, or Joe Flanagan, Director of Public Works for the Town of Dedham. Pat and Joe are responsible for planning, directing, and managing operations for Brockton and Dedham, respectively, which are both located just south of the city of Boston.
But unlike other neighboring municipalities who simply react to weather conditions, Brockton and Dedham use weather intelligence to stay a step ahead. With hyperlocal data, automated alerts, and actionable insights, both Pat and Joe are able to prepare for and streamline operations around any weather event before it happens. And these benefits are paying off—together, these municipalities saved over $200,000 in the winter of 2022 alone. Here's how:
Improving Precipitation Start and Stop Times
Whether rain, sleet, or snow, precipitation almost always requires some municipal action in order to ensure citizen safety and minimize operational disruption. But without knowing a precise time frame when snow, for example, will start and stop, leaders  are left guessing as to when and for how long to staff crews, secure equipment, close roadways, etc.
Tomorrow.io's hyperlocal hourly forecast paired with automated Insights make it easy for municipalities to know when exactly precipitation will begin and how to prepare.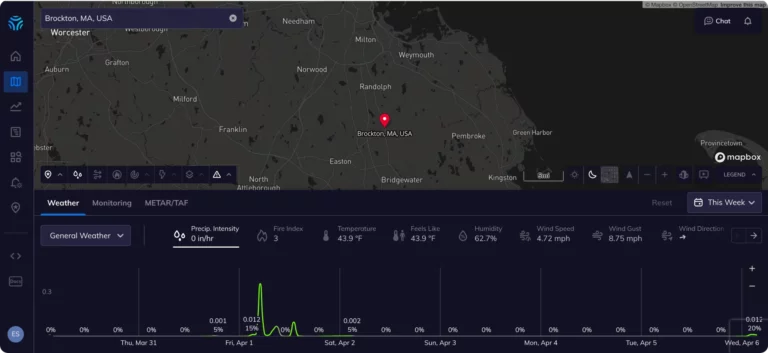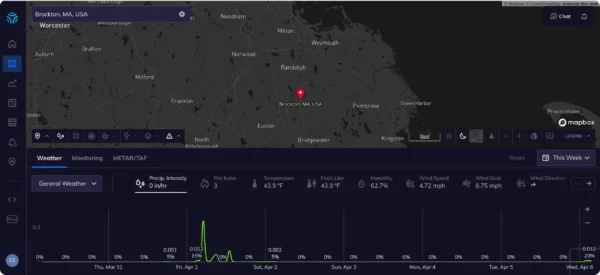 "With Tomorrow.io, we've been able to improve precipitation start and stop times by four hours per storm. Now, we know exactly when and where to send crews rather than reactively guessing. This is a gamechanger for any municipality," said Pat Hill, Commissioner of Public Works for the City of Brockton.
Eliminating Unnecessary Overtime
By better predicting the impact of weather events like winter storms, municipalities can significantly improve resource management. While a forecast alone doesn't provide any actionable insight, weather intelligence offers leaders the ability to reduce unnecessary overtime and more efficiently schedule staff. Tomorrow.io's Weather and Climate Security Platform generates tailored insights and alerts based on the weather conditions that matter most to a particular municipality's operations, and the actions that municipality takes to mitigate the impacts of incoming weather.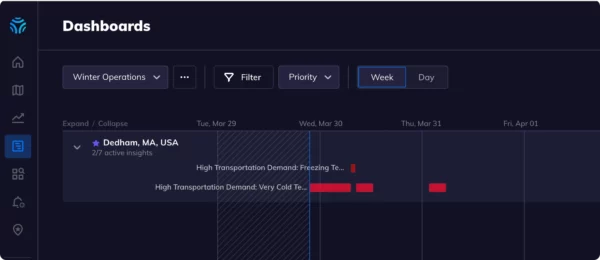 "Being able to proactively prepare for weather has allowed us to save nearly $15,000 in unnecessary overtime each winter storm and over $48,000 in winter operations costs overall this year. This has transformed the way we approach our municipal operations, allowing us to reinvest both time and money back in our core operations," said Joe Flanagan, Director of Public Works for the Town of Dedham.
Going Beyond Winter Operations
Winter storms aren't the only dangerous and costly events for municipalities like Brockton and Dedham. Weather intelligence empowers community leaders to reduce energy consumption, save money on resources, plan development projects, and communicate with residents no matter what the forecast brings.
Interested in making your city more weather and climate secure?
See How Tomorrow.io Can Help